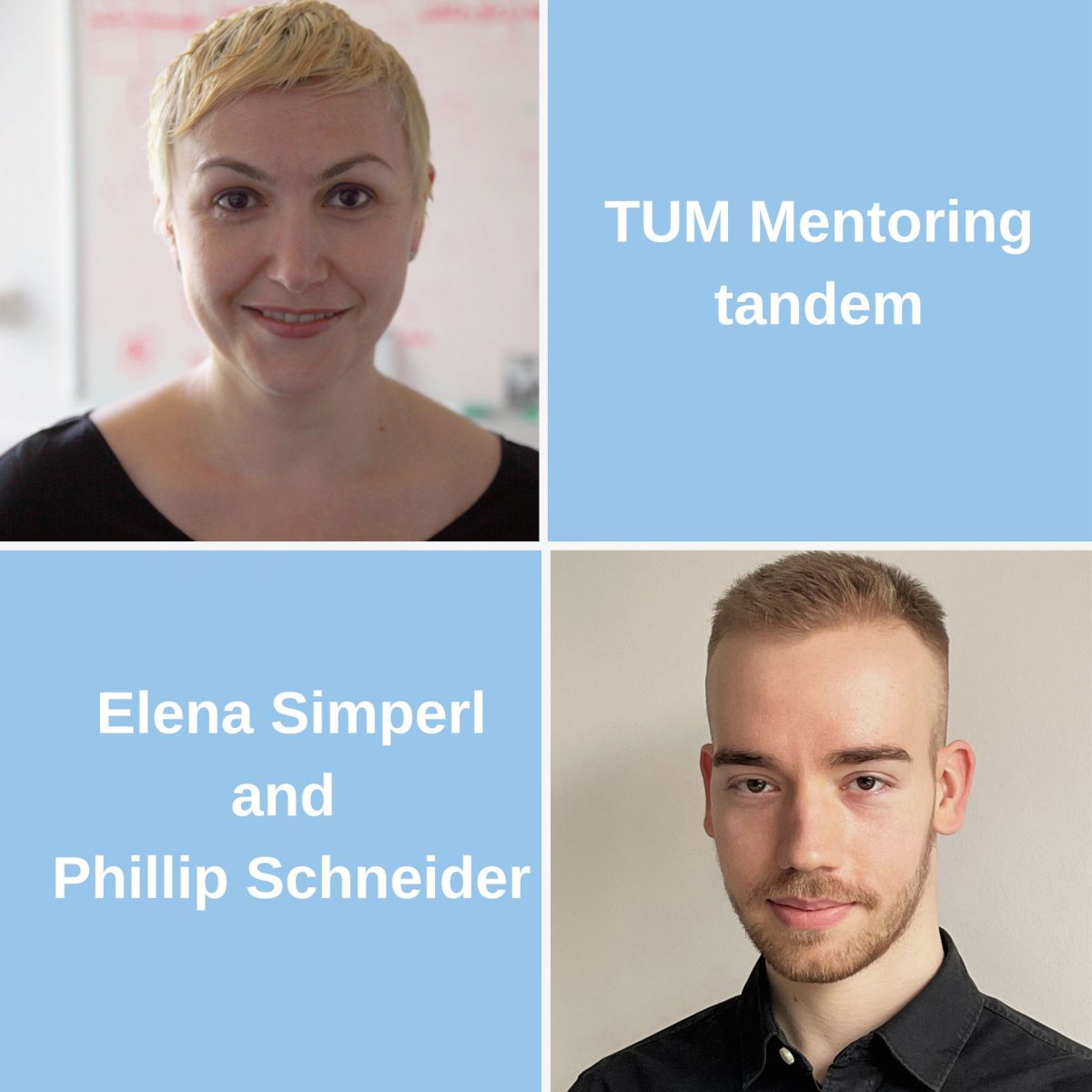 Mentoring tandem Elena Simperl and Phillip Schneider
"I learned that research is a team sport"
As a mentee, Phillip Schneider received decisive professional and personal support from his mentor Elena Simperl. In fact, the mentorship resulted in a joint publication – and in Phillip Schneider's desire to become a mentor himself.
Phillip Schneider moved to Munich for his computer science doctorate. The excellent reputation of TUM in this field and the promising research prospects in the context of industry cooperations were decisive for him. Recommendations from friends and acquaintances who had already studied here also prompted his decision.
When he first embarked on his doctorate at TUM, he had only vague ideas about academic life, scientific work and publishing. "That's why I applied for the TUM Mentoring for Scientists," he explains. "I was very surprised that the TUM Alumni & Career Center team handpicks the mentoring tandems in this context."
THE DECISIVE DIFFERENCE
Phillip Schneider couldn't have found a better match with his mentor, TUM alumna Prof. Dr. Elena Simperl. The computer science professor is a luminary in the fields of knowledge management and artificial intelligence, and just like Phillip Schneider, she is also interested in knowledge graphs – semantic networks that structure data and knowledge. These graphs can serve as a foundation for making artificial intelligence applications comprehensible to humans.
Our mentorship was a meeting of equals.
With regard to Elena Simperl, her own time studying at TUM was very formative. It was at TUM, as she relates today, that she acquired the major share of her computer science knowledge. From her own experience, she is well aware just how important mentors are for personal and academic development – not only during her studies, but at every stage of her life. Even today, she is grateful for the support of her faculty members who assumed this role for her and were so generous with their time. "It made a big difference to me," she recalls. "And that's why I'm now involved in the TUM mentoring program myself, as I want to give something back."
PARTNER FOR THE MARATHON
In the course of their mentoring sessions, Elena Simperl and Phillip Schneider spoke very openly about all kinds of topics, ranging from selecting good assistants as well as other challenges in navigating the academic work environment. Professional discussions about the common research interest in knowledge graphs were also high on the agenda. Through the exchange, Elena Simperl helped her mentee significantly in defining and narrowing down his research topic. Since then, Phillip Schneider has focused on interactive text- and speech-based dialog systems enabling people to intuitively search for information in knowledge bases.
What's more, however, the mentor also benefited from her mentee's fresh perspective. "For me, it's important to emphasize that our mentorship was a meeting of equals," as Elena Simperl underlines. "We both learned from each other, and I hope we will continue to work together in the future." The mentorship culminated in a joint publication combining their research interests. "From Elena, I learned that good research is a team sport – and a doctorate is not a sprint, but a marathon," says Phillip Schneider.
His experience with TUM Mentoring for Scientists was so positive that Phillip Schneider immediately applied for the next mentorship with Elena Simperl after the first exchange ended. "I did not make this decision because there were acute issues to discuss," as he recalls. "But rather because I understood through my mentorship with Elena just how valuable this professional and personal exchange is. After earning my doctorate, I would like to participate in the program as a mentor myself."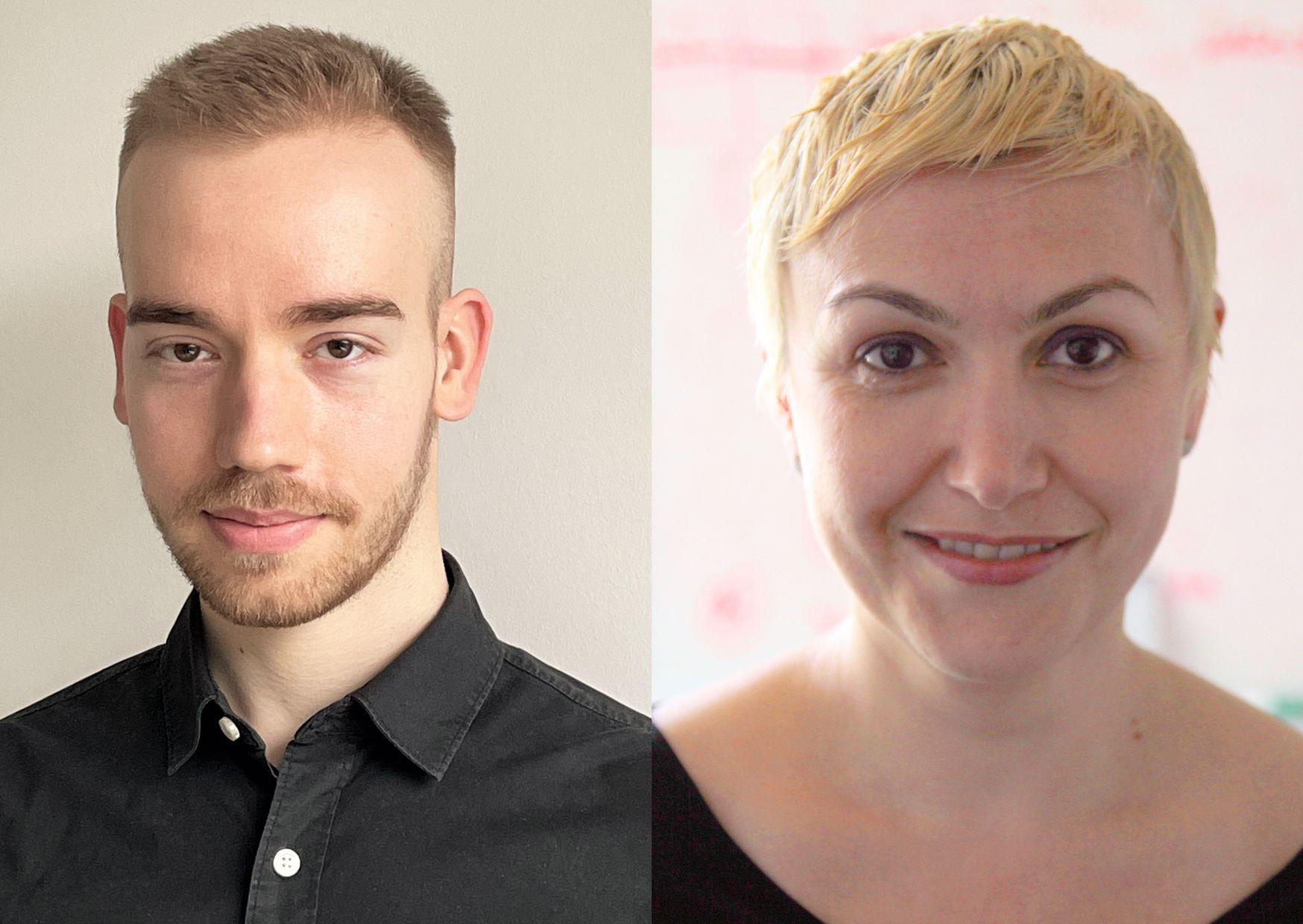 Prof. Dr. Elena Simperl and Phillip Schneider
Diploma Computer Science 2002 and PhD Computer Science since 2020
In 2002, Elena Simperl graduated from TUM with a diploma in computer science and followed this up in 2007 with her doctorate at the Free University of Berlin. She launched her academic career as an assistant professor at the Karlsruhe Institute of Technology. Subsequently, took up a professorship at the University of Southampton in the UK. Since 2020, Elena Simperl has been Professor of Computer Science at King's College London. She is a Fellow of the British Computer Society and a Turing AI Fellow. Elena is happily married, loves art, culture and languages, and occasionally watches an FC Bayern game.
After completing a bachelor's degree in economics from Johannes Gutenberg University in Mainz, Phillip Schneider turned to computer science and earned his Master's degree in Information Systems at the Johann Wolfgang Goethe University in Frankfurt am Main. Schneider also spent a semester abroad in the Master's program in Computer Science at the University of Helsinki. Since 2020, he has been pursuing a PhD in Computer Science at TUM. After wrapping up his doctorate, he would like to work in a research-related position in industry. For Phillip Schneider, hiking in the Bavarian foothills of the Alps is the best way to unwind after work.
From 2020 to 2021, Elena Simperl and Phillip Schneider formed a mentoring tandem as part of the TUM Mentoring for Scientists program – with the mentorship culminating in a joint publication. For mentee Phillip Schneider, this was the first publication as lead author.