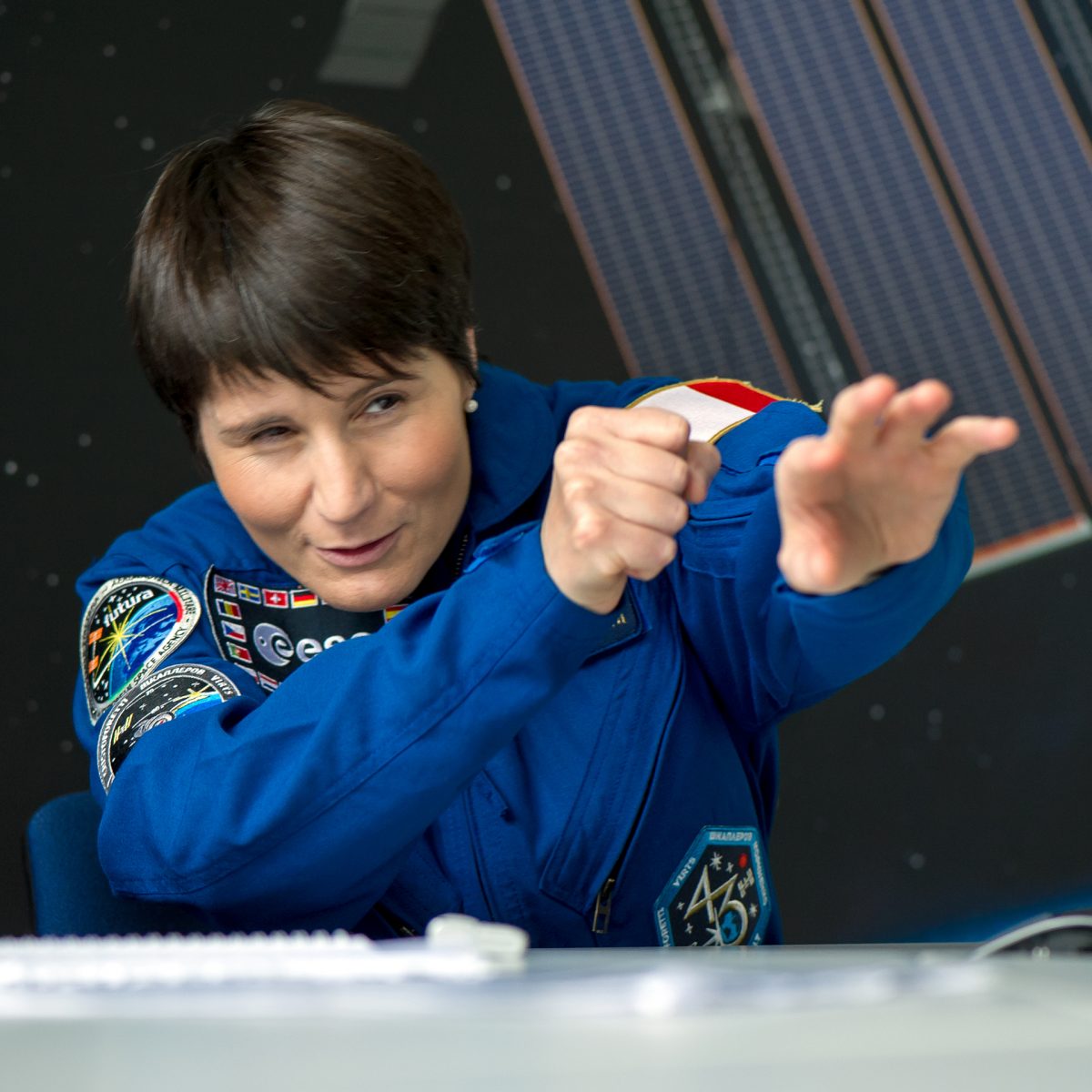 "Thank you for the excellent engineering training"
Her engineering degree from TUM was Samantha Cristoforetti's decisive asset when she applied for the astronaut training programme at ESA. With flying to the international space station she has fulfilled her childhood dream.
Samantha Cristoforetti wanted to become an astronaut since she was a little child. Her room was full of posters and she was an avid reader of science-fiction books, but also already of non-fiction on this topic. In order to increase the chances of fulfilling her dream, she first moved from Milano, where she was born, to Munich to study Mechanical Engineering at TUM, and after her diploma joined the Italian Air Force. There, as one of the first women ever, she was trained as a fighter pilot.
Even though she was still in the middle of the challenging training at the Air Force Academy Samantha Cristoforetti did not hesitate one moment when the European Space Agency announced an astronaut selection campaign. The tough application process, which demanded a lot of patience, perseverance and assertiveness from her, took more than one year. An extensive technical, medical and psychological aptitude test examined her suitability to reach the career goal she had pursued so determinedly.
MECHANICAL ENGENEERING FOR SPACE 
Samantha Cristoforetti remembers that as a then thirty-year-old, it was a big advantage to be able to speak five languages fluently and, due to her experience as a pilot, to be able to look back on more than five hundred flying hours in six different military aircrafts. A crucial advantage over her competition in particular was the technical expertise in aerospace engineering TUM had equipped her with. Being able to assume the perspective of a trained engineer, dealing intensively with the technical systems of the international space station and the space ships was in a sense like playing on home turf for Samantha Cristoforetti. As it was, she only had positive memories of her time studying at TUM, of her years of work in the student council, her cosy room in the student's hall in Garching and the beautiful English Garden.
In the end Samantha Cristoforetti was able to prevail over more than 8.400 competitors and was selected for the European Astronaut Corps together with five other Europeans. As soon as the had completed the basic training at the European Astronaut Centre in Cologne, the Italian Space Agency suggested her for Mission Futura as a flight engineer for the 42nd long-term crew of ISS.
RECORD ON FIRST SPACE TRIP
For overall five years she is preparing for her first space mission. She learns how to fly the Soyuz-spacecrafts, familiarises herself with the space station's systems, the robot control and the extra-vehicular activities. After a two-week quarantine she eventually sets out on her flight to the international space lab from the Baikonur cosmodrome in Kazakhstan. That she would break several world records on her first flight into space came as a surprise to Samantha Cristoforetti. Due to the crash of a Russian space freighter her return flight home unexpectedly got delayed, which extended her stay in 400 kilometres hight to almost 200 days. Thus, Samantha Cristoforetti became the record holder for the longest space mission ever completed by a woman and for the longest continuous space mission by any European astronaut.
What is more, Samantha Cristoforetti was not only the first female Italian in space but also the first TUM Alumna. When talking to young students of her alma mater she advises them to do what she has proven right by making her childhood dream reality: focus on one big goal – even when it is still far away in the future. "That's actually the best thing young people can do for themselves", Cristoforetti says; "to take some time and find a vision to work towards".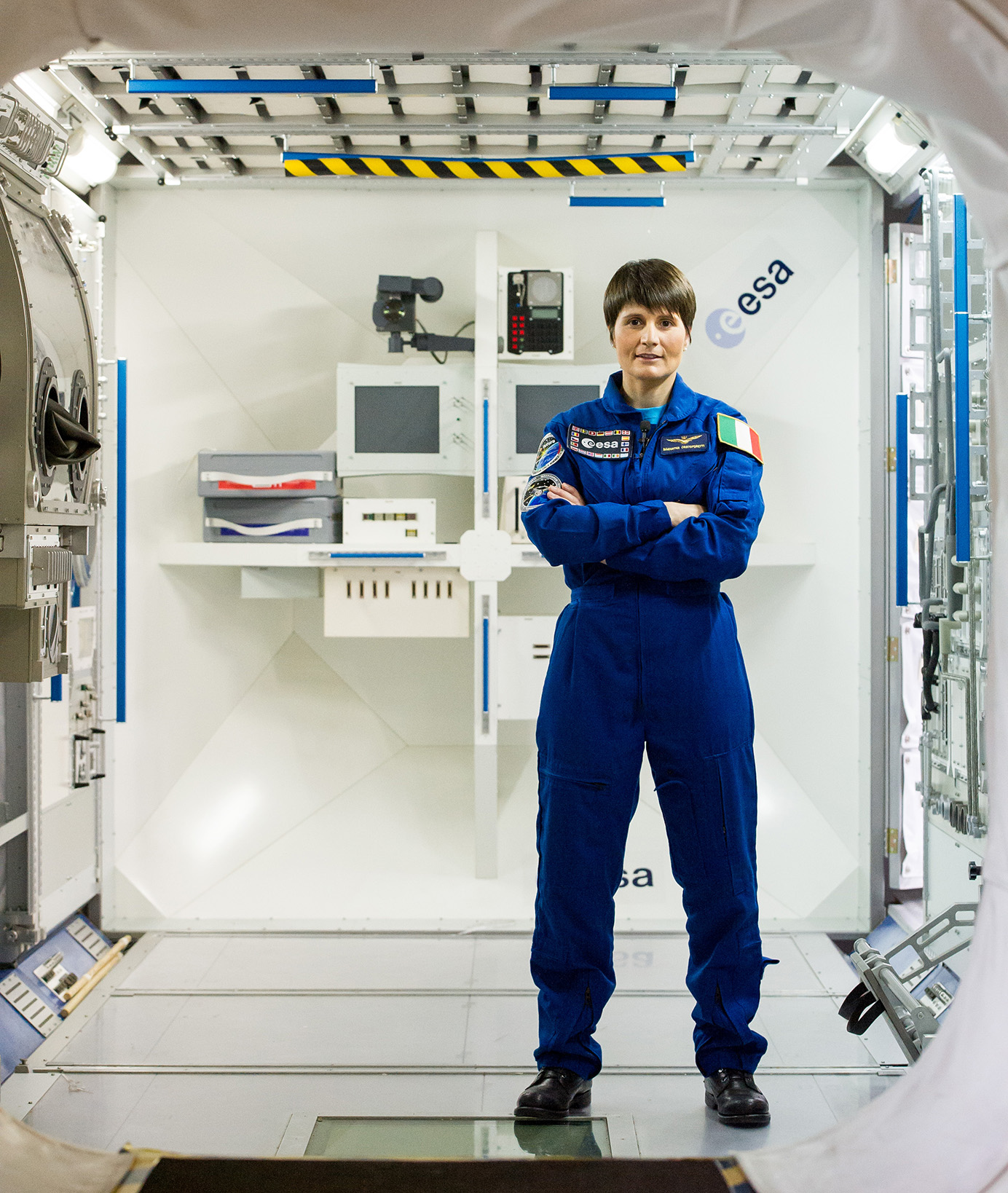 Samantha Cristoforetti
Diploma Aerospace Engineering 2001
From 1996 until 2001 Samantha Cristoforetti studied Mechanical Engineering with specialisations in Aerospace Propulsion and Lightweight Structures at TUM. Through the European Union's ERASMUS Programme she also studied at the Ecole Nationale Supérieure de l'Aéronautique et de l'Espace in Toulouse and at the Mendeleev University of Chemical Technologies in Moscow. She completed a second degree in Aeronautical Sciences at the University of Naples Federico II in 2005.
Between the years of 2001 and 2005 she received pilot training at the Italian Air Force Academy Pozzuoli and subsequently worked for the Italian Air Force until 2009. In 2006 she was trained as a fighter pilot at the Sheppard Air Force Base.
In 2009 she was recruited for the European Space Agency's (ESA) astronaut corps, in 2014 her first space mission as a flight engineer on the ISS Expedition 42 and 43 followed. Samantha Cristoforetti holds the Knight Grand Cross of the Order of Merit of the Italian Republic.
She is fluent in five languages and now – in addition to her native tongue Italian, German, English, French and Russian, learns Chinese as her sixth language. In her limited free time she is passionate about diving, yoga and caving. Samantha Cristoforetti in an avid reader of science-fiction and is writing an online-log. As @astrosamantha she has thousands of followers on twitter.enden.