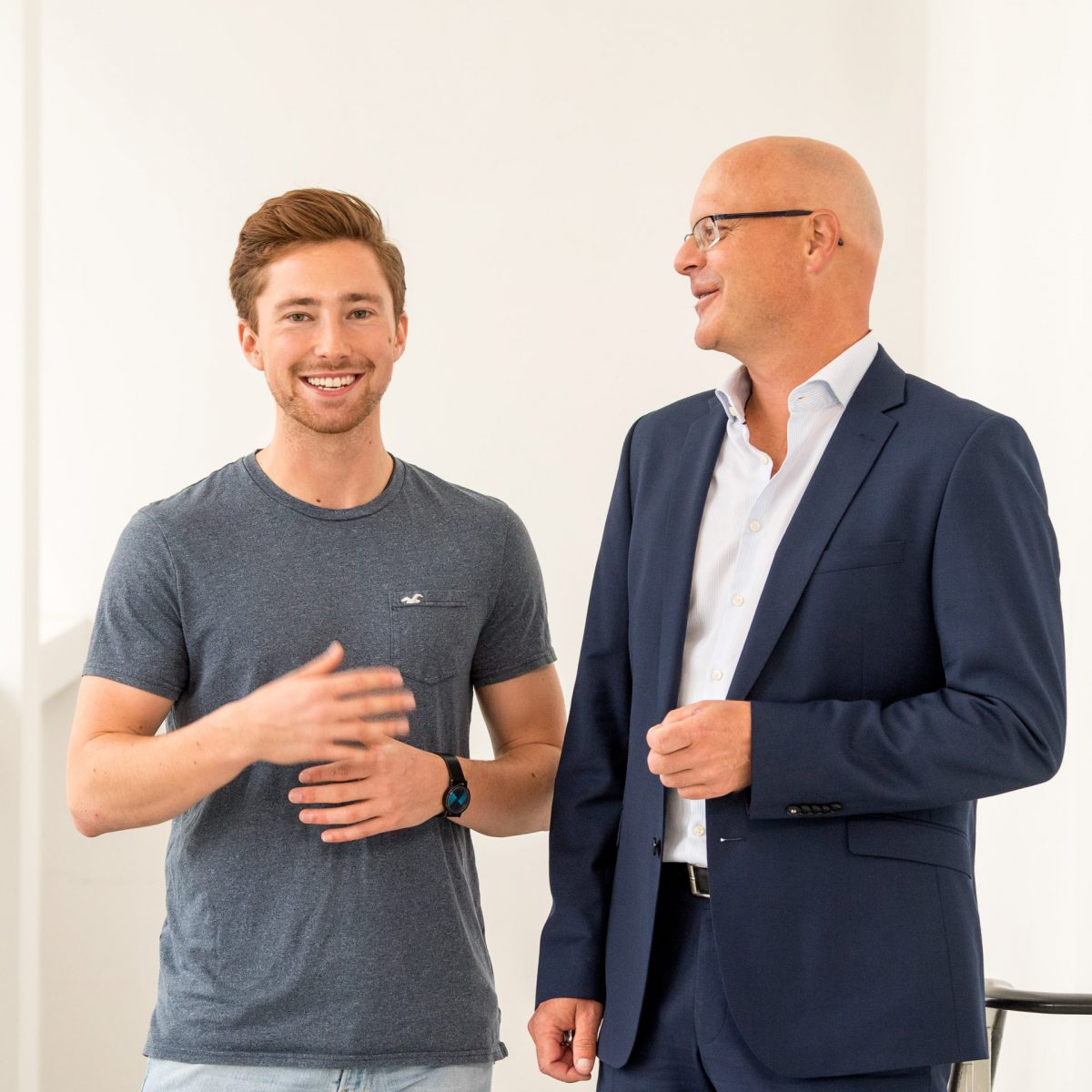 "Nothing Ventured, Nothing Gained"
Mentor and TUM Alumni Thomas Briegel and student and mentee Paul Kaiser are both bursting with energy and willingness to take risks. Both successfully run their own companies. In the mentorship they talk shop on equal terms.
In 2017 Paul Kaiser graduated from TUM with a Bachelor's degree in Management and Technology. Since then, he has been studying for a Master's degree and has focused his studies on Informatics. He hardly has time to study. Because, while still being in his early twenties, he is also a passionate entrepreneur. "Being self-employed is the job of my dreams," he says. "I need the freedom and possibility of choosing my own path."
Zest for action and willingness to take risks
Since 2015, Paul Kaiser has been working quasi-full-time for a student management consultancy in addition to his studies. As an independent consultant, he supports top international corporations in strategy projects and, above all, in digital transformation. Even before finishing his Bachelor's degree, he and other TUM students founded the first student consultancy in Johannesburg. Half a year later, together with other TUM Alumni, he set up a student consulting firm in Nairobi.
The fact that there are no compulsory subjects in the Management and Technology (TUM-BWL) Master's programme and that, as a result, the independence of the students is promoted is very important to Paul Kaiser. "The flexible structure of my timetable allows me to work a lot during my studies". And Paul Kaiser has to ever since he founded another company, Innovent Consulting GmbH, with TUM master student Julian Blum (Bachelor Management and Technology (TUM-BWL) 2016) in 2018. Since then, the two have accompanied the construction industry with innovative solutions on its way into the digital future. "I have gained my expertise in digitisation and organisational design at TUM, as well as my high standards," says Paul Kaiser. "Now I can use them to the advantage of our customers and partners".
Well-advised
Paul Kaiser prefers to be the one giving counsel, not the other way around. But despite his considerable experience in Management Consulting and Business Creation, he knows his limits well. He attends the courses in Strategic Entrepreneurship by TUM professor Dr. Oliver Alexy's and has been participating in the TUM Mentoring Programme for Students by Alumni since the beginning of 2019. "I think mentoring is very important for my personal development," he says. After all, TUM was surprisingly quick in being able to find him a mentor who was a match for him and from whom he is able to take advice despite having a mind of his own: TUM Alumni Dr. Thomas Briegel, mathematician, computer scientist, business economist and a successful entrepreneur himself with more than twenty years of consulting experience in international top management.
Thomas Briegel studied and received his doctorate in Informatics at TUM. "I had excellent professors and highly motivated tutors here," he says. "They really wanted to teach us something, not just reel off their programme. He found this collaborative working atmosphere to be fitting and important, and initially volunteered as a tutor for several years before becoming a mentor in 2003. He gained experience in consulting at the highest level, having most recently been a junior partner at McKinsey & Company, the world's leading management consultancy for top management, and having led his own consulting firm OakTree Management Consultants GmbH to international success since 2007.
His mentee Paul Kaiser does not need any advice with regard to choosing a career. The two talk as equals about founding companies, consulting companies and dealing with qualitative data analyses. "Talking shop about specific topics together is extremely helpful for me and at the same time interesting for my mentor," says Paul Kaiser confidently. Thomas Briegel is intrigued by his mentee's zest for action and willingness to take risks. "I wouldn't have dared to do that twenty years ago," he says. Paul Kaiser replied calmly: "You just have to do it. Nothing ventured, nothing gained".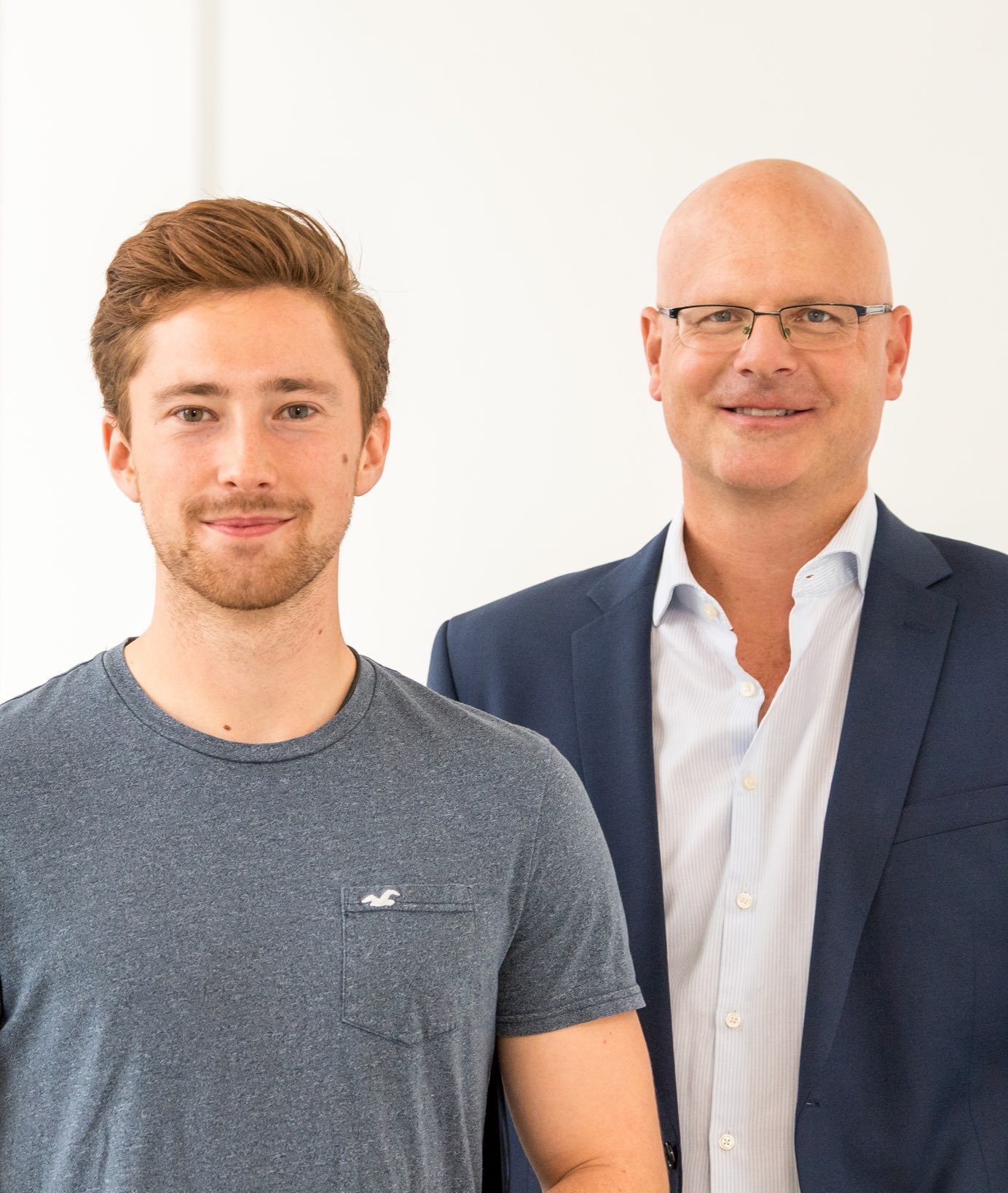 Paul Kaiser and Dr. Thomas Briegel
Bachelor TUM-BWL 2017 and Degree Informatics 1996, Doctorate 2000
Dr. Thomas Briegel
From 1991 to 1996 Thomas Briegel studied Informatics at TUM, at the same time he graduated in Applied Mathematics from the Fernuniversität Hagen. In 1999 he completed his doctorate in Machine Learning and Neural Networks at TUM, as well as his diploma in Business Administration at the Fernuniversität Hagen. Between 1996 and 2000, he used machine learning methods to solve financial, medical and process engineering problems at Siemens. Rather coincidentally, he came into contact with top management consulting and McKinsey & Company through a job fair at TUM. He applied and in no time at all passed through the levels of Associate, Senior Associate, Engagement Manager and Junior Partner (Associate Principal).
In 2007, he quit his exciting and well-paid job and fulfilled his dream of self-employment with OakTree Management Consultants GmbH, a top management consultancy for clients in the travel, transportation and logistics industry operating in Europe. On top of that he and a colleague have also acquired, restructured and digitised a small recycling company for precious metals throughout the last years. Thomas Briegel is married and lives at Lake Starnberg with his wife and two children. Here he is able to let off steam in his free time, e.g. with stand up paddling, surfing, sailing, diving, tennis or golf. In winter he is in the mountains every weekend, skiing or cross-country skiing and ski touring.
Paul Kaiser
Paul Kaiser graduated from TUM with a Bachelor's degree in Technology and Management (TUM-BWL) in 2017. Since then, he has been studying for a Master's degree in TUM-BWL. Since 2015 he has been working for Academy Consult München e.V. and supports major companies as an independent external consultant. Since 2017 he has been responsible for more than 30 student consultants as a member of the Management Board and member of the Executive Board of the Customer Care Division.
In 2017 he founded the Consulting Academy Johannesburg, a student consultancy in sub-Saharan Africa. Just half a year later, a student consultancy in Nairobi followed. In 2018, he founded Innovent Consulting GmbH with TUM Alumni Julian Blum. Paul Kaiser lives in a flat-share in Munich. He loves to play guitar, both electric and classical, from progressive rock to classic rock to his own creations. In case he decides to go and play soccer or paragliding instead, peace and quiet returns to the flat-sharing community.
Interested in TUM Mentoring for Students by Alumni? More information can be found here>