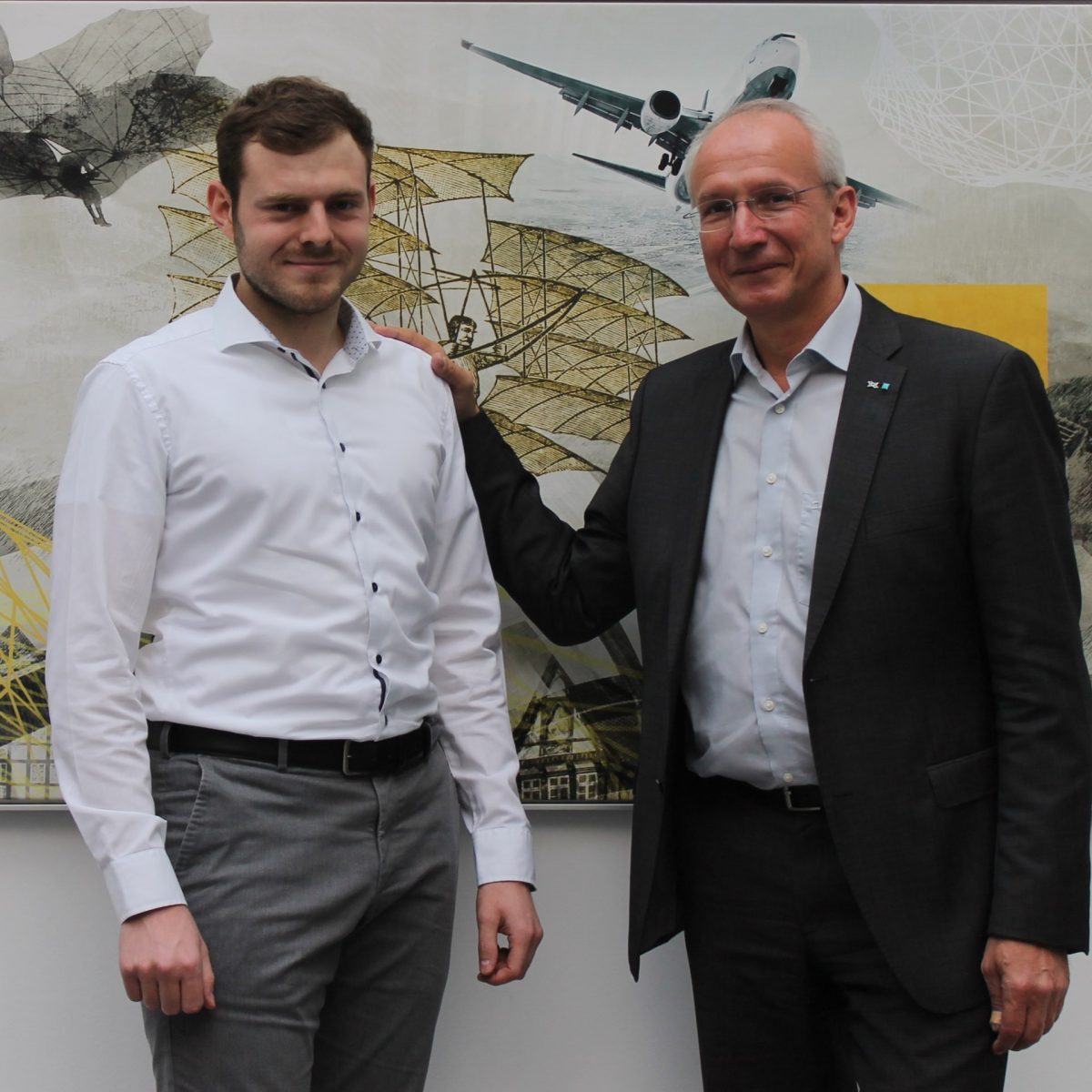 "You can't gain this kind of experience through reading"
The student Tim Wittmann expected advice about getting through job interviews and writing motivational letters from his mentor and TUM Alumnus Heinz Voggenreiter. But then the two were able to talk to one another about fundamental life issues and became friends.
Tim Wittmann completed his Bachelor's degree in Aerospace at TUM in 2015. Following an internship at a US software corporation, the plan was to continue by doing his Master's. The native of the Allgäu region decided at this point to remain very focused on his career. Some fellow students recommended the one-year TUM Mentoring by Alumni for Students program. Tim Wittmann hoped to get some advice about job interviews, writing motivational letters and about how to dress properly.
An aerospace expert
After three months, Tim Wittmann was informed that a suitable mentor in line with his application had been found. He contacted the person whose name had been put forward and learned that, from then on, Professor Heinz Voggenreiter, an expert in Aerospace Technology, would be there to help him in any way he could as a mentor. Following his studies in Mechanical Engineering with a focus on Aerospace Technology at TUM, Heinz Voggenreiter continued to work at his alma mater as a research assistant for two years. In 1996, he gained his PhD and went on to hold positions as a Development Engineer and manager for fourteen years at top companies who operated worldwide. Since 2005, he has been a Professor for Lightweight Construction in Aviation at Stuttgart University.
It soon became clear to Tim Wittmann that the exchange between the two would go far beyond just discussing questions concerning the right suit to wear to a job interview. "The questions that Heinz Voggenreiter asked me were ones I myself had never asked myself in such a profound and precise manner." During the often three-hour meetings with his mentor, Tim Wittmann learned how important it is to develop one's own personality alongside professional competence and career success. He discovered the way he wanted to go in terms of further study and decided to do a semester abroad in Moscow, and then ultimately decided to take up an academic career at university. "Heinz Voggenreiter helped me to help myself. I took all of the decisions myself, of course, but the discussions with him naturally helped me to take them much more consciously."
Mentoring for more than a year
Heinz Voggenreiter has been passing on his long-standing professional experience, but also his personal experience as well to young people in the TUM Mentoring by Alumni for Students program. "I myself did not have a mentor as such," Heinz Voggenreiter explains, "but I did have a very good boss in my initial working years who influenced my personal development by giving me the right mixture of freedom and delegating responsibility." The food for thought that he gives young mentees today, he adds, helps them to develop their personality, professional goals and how they decide to live their lives fast and rigorously, which in turn makes them happy and content. "That is my main objective," Heinz Voggenreiter says.
The official mentoring year of the two would already have been over more than a year ago. However, they continue to telephone and meet one another regularly. "If I have an urgent question, I always get advice fast from Heinz Voggenreiter," says Tim Wittmann. The two engineers now know each other so well that they use the familiar German address of "du" and no longer only talk about professional matters, but also about private matters and the fundamental questions of life. "You can't gain this kind of experience through reading," says Tim Wittmann. "The mentoring went far beyond the expectations I had of it."
A mutual benefit
Even if Tim Wittmann humbly maintains that he doubts his mentor can learn something from him, Heinz Voggenreiter stresses the fact that the learning success is a mutual one. His activities as a mentor, he explains, help him understand the mentality of young people, the culture of young people and this allows him to adapt the way he deals with young people accordingly. The best thing that can happen to me is to understand young people so that I can support them in their search for a happy and satisfied life," Heinz Voggenreiter says. "Tim Wittmann has found his path in life and that is very satisfying for me as a mentor."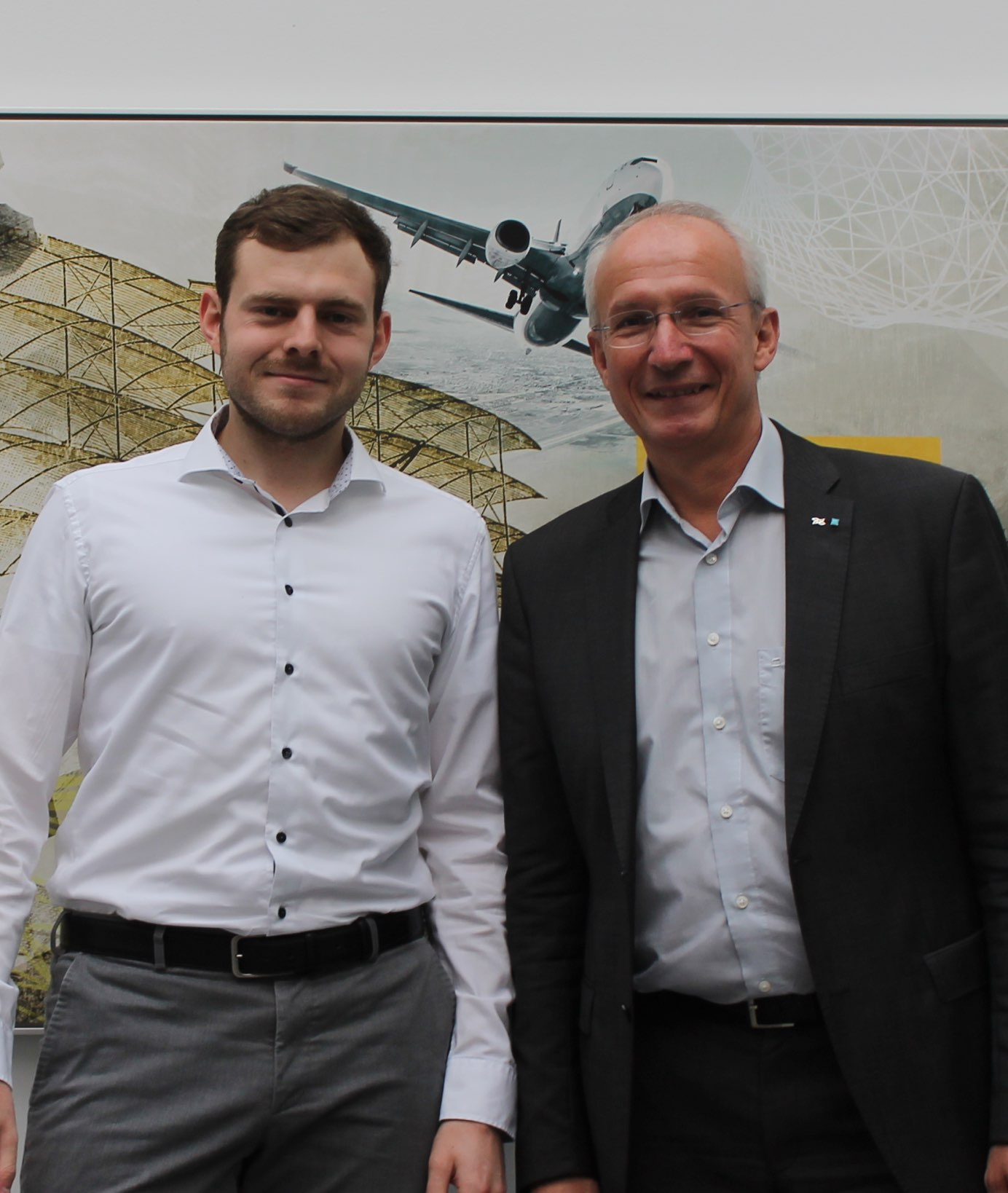 Prof. Dr. Heinz Voggenreiter
Degree in Mechanical Engineering in 1990
Heinz Voggenreiter studied Mechanical Engineering at TUM with a focus on Aerospace Engineering and Materials Science (1984-1990). After working as a research assistant there, he obtained his doctorate at the Technical University Bergakademie Freiberg in 1996.
From 1990 to 2004 he worked as a Development Engineer and in management at MBB, DaimlerChrysler and the European Aeronautic Defence and Space Company (EADS). Since 2005 he has held a professorship for Lightweight Construction in Aviation at the University of Stuttgart.
Heinz Voggenreiter has also been Director of the Institute for Structures and Design Research (Stuttgart and Augsburg) and the Institute for Materials Research (Cologne) at the German Aerospace Center since 2005. (DLR).
He is, among other things, scientific spokesman of the Helmholtz Alliance DLR@Uni, Chairman of the Scientific Advisory Board and Member of the Executive Committee of the VDI, Member of the Advisory Board of the Aerospace Academy Stuttgart and founding member and Deputy Chairman of the Board of the AEROSPACE LAB e.V. Herrenberg youth research center.
Heinz Voggenreiter is married and has an adult son.
Tim Wittmann
Master's in Aerospace in 2018
Tim Wittmann holds a Bachelor's degree in Aerospace from TUM, which he gained in 2015. After a semester abroad in Energy Technology in the Department of Compressor and Vacuum Technology at Bauman Moscow State Technical University, he completed his Master's degree at TUM in 2018.
From 2012 to 2014 he worked at TUM as a tutor in the Department of Flight System Dynamics and as an assistant scientist in the Department of Thermodynamics. From 2015 to 2018 he was a scientific assistant in the Department of Flight Propulsion Systems and in the Department of Helicopter Technology at TUM. Since the fall of 2018 he has been a scientific assistant at the Institute for Flight Propulsion and Turbomachinery at the TU Braunschweig.
In addition to his enthusiasm for aviation, math and physics, Tim Wittmann is also a passionate sportsman, from running half marathons to gliding and karate.
Are you interested in the TUM Mentoring by Alumni for Students program? You can find more information here>