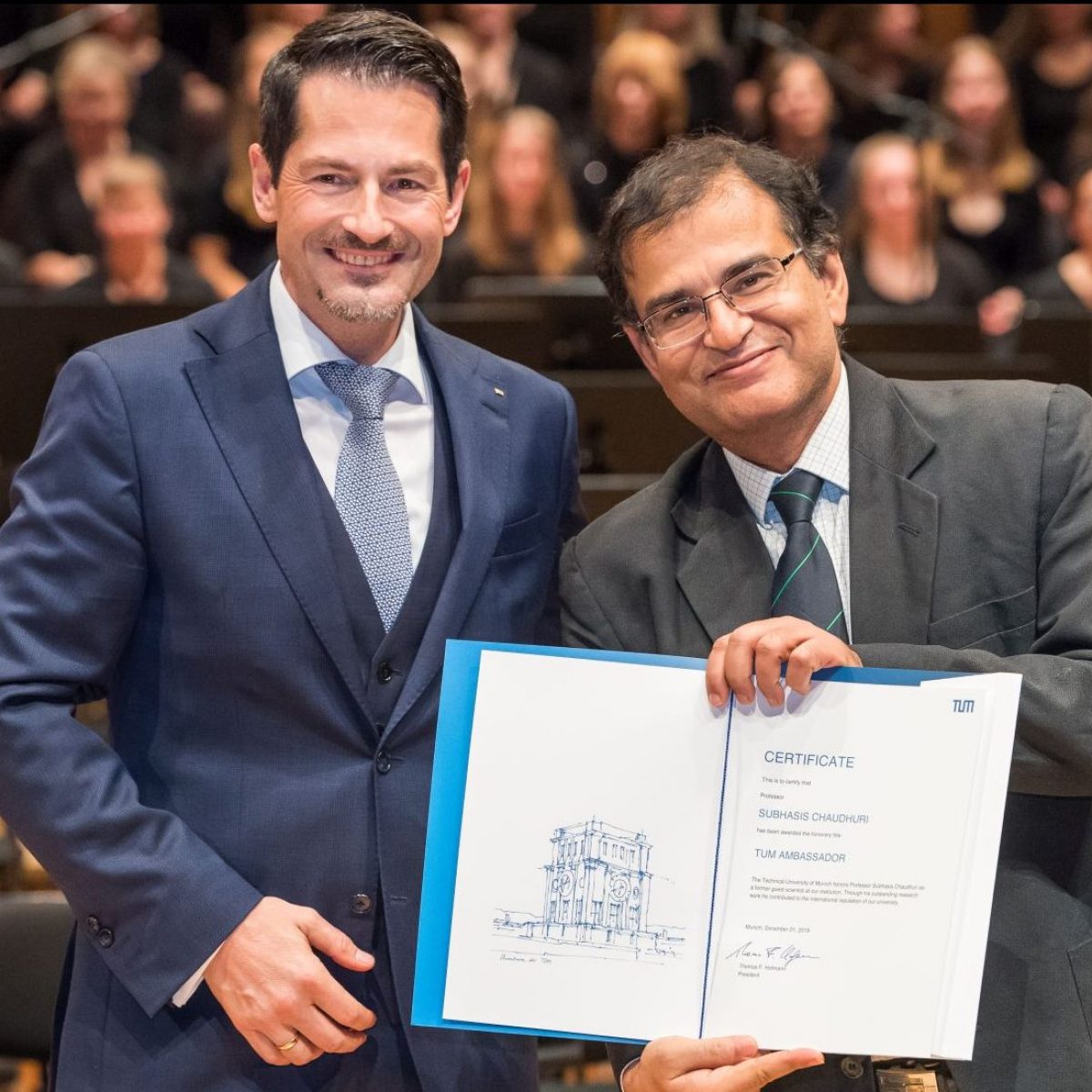 TUM Ambassador Subhasis Chaudhuri
"I have gained both a research partner and a friend"
For over thirty years Subhasis Chaudhuri's focus has been on the interdisciplinary fields of image processing and computer vision. In the international research community his studies on so-called machine vision and machine learning are considered groundbreaking. The methods he has developed, for which he holds a number of U.S. and Indian patents, have considerably advanced this visionary field.
In order to get to know as many research perspectives and scientific approaches as possible, Professor Dr. Subhasis Chaudhuri studied and researched in six countries. He completed his master's degree in Electrical Engineering in Canada and then went to the US for his doctorate. As a visiting professor, his path led him to Singapore, Hong Kong, Paris, Erlangen-Nuremberg – and since 2005 several times to TUM in Munich.
INTERNATIONAL EXPERIENCE 
"You will only get a feel for what makes good research through international research assignments," he explains. "Of course, you should always try to gain experience at the best universities. TUM is definitely my top choice." Here Subhasis Chaudhuri discovered a new field of research for himself – and met who was to become his best friend.
The Indian expert and TUM Professor Eckehard Steinbach were able to exchange ideas about optical signal processing, pattern, object and face recognition using special software and on how to generate knowledge 'artificially' on equal terms . But more importantly, Eckehard Steinbach was able to get his guest interested into his own research domain.
Subhasis Chaudhuri's research at the Indian Institute of Technology in Bombay (IITB) was primarily in the visual field. At TUM's Media Technology Laboratory he now also became acquainted with computer haptics, a highly relevant and future-oriented field of research. Soon, computer haptics will allow us to not only see and hear computer-generated physical objects, but to simultaneously experience them haptically, i.e. to feel, reshape and move them.
WINNING A HOME MATCH 
The exchange with his Munich colleagues inspired Subhasis Chaudhuri so much that he founded his own laboratory for haptic technology in Bombay. "At TUM I was able to exchange ideas on the subject with numerous researchers," he says gratefully. "This definitely helped me to build a full-fledged laboratory."
Meanwhile, Subhasis Chaudhuri's own research, for example on the haptic representation of point cloud data, on kinesthetic perception and on haptic data communication, has decisively advanced this innovative field. "The research cooperation with Professor Eckehard Steinbach has never stopped," says Subhasis Chaudhuri. "In him I have gained both a research partner and a friend."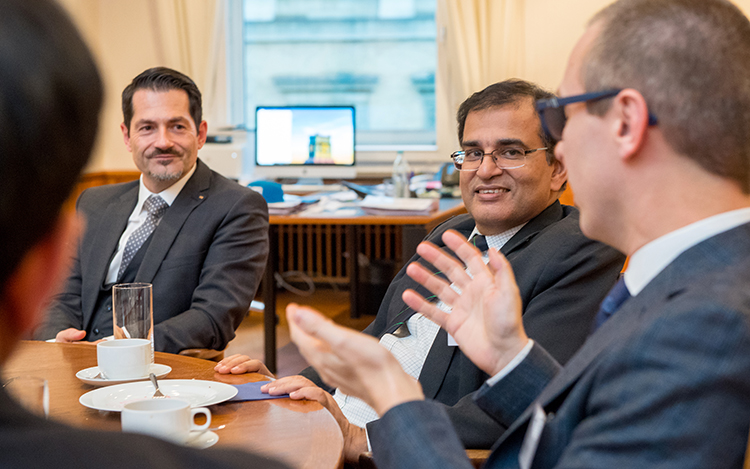 HUMBLE PIONEERS 
Subhasis Chaudhuri modestly describes his work and activities as gradually advancing the current state of development, in order to pave the way for the future stars of research – the 'real giants', as he calls them. His numerous awards and honours clearly are proof that he himself has long been an exceptional luminary in his field, and demonstrate his reputation in the scientific community as a proven pioneer.
In 2004, he received the most prestigious Indian science award from the Indian Government's leading agency for scientific research, the Council of Scientific and Industrial Research. In 2019 the government appointed him Director of the Indian Institute of Technology in Bombay. In the same year another distinction was added: TUM honoured the humble professor with the honorary title 'TUM Ambassador'. After all, he was not the only one who learnt a lot here. His colleagues at TUM have also been greatly enriched by Subhasis Chaudhuri's scientific expertise and international experience.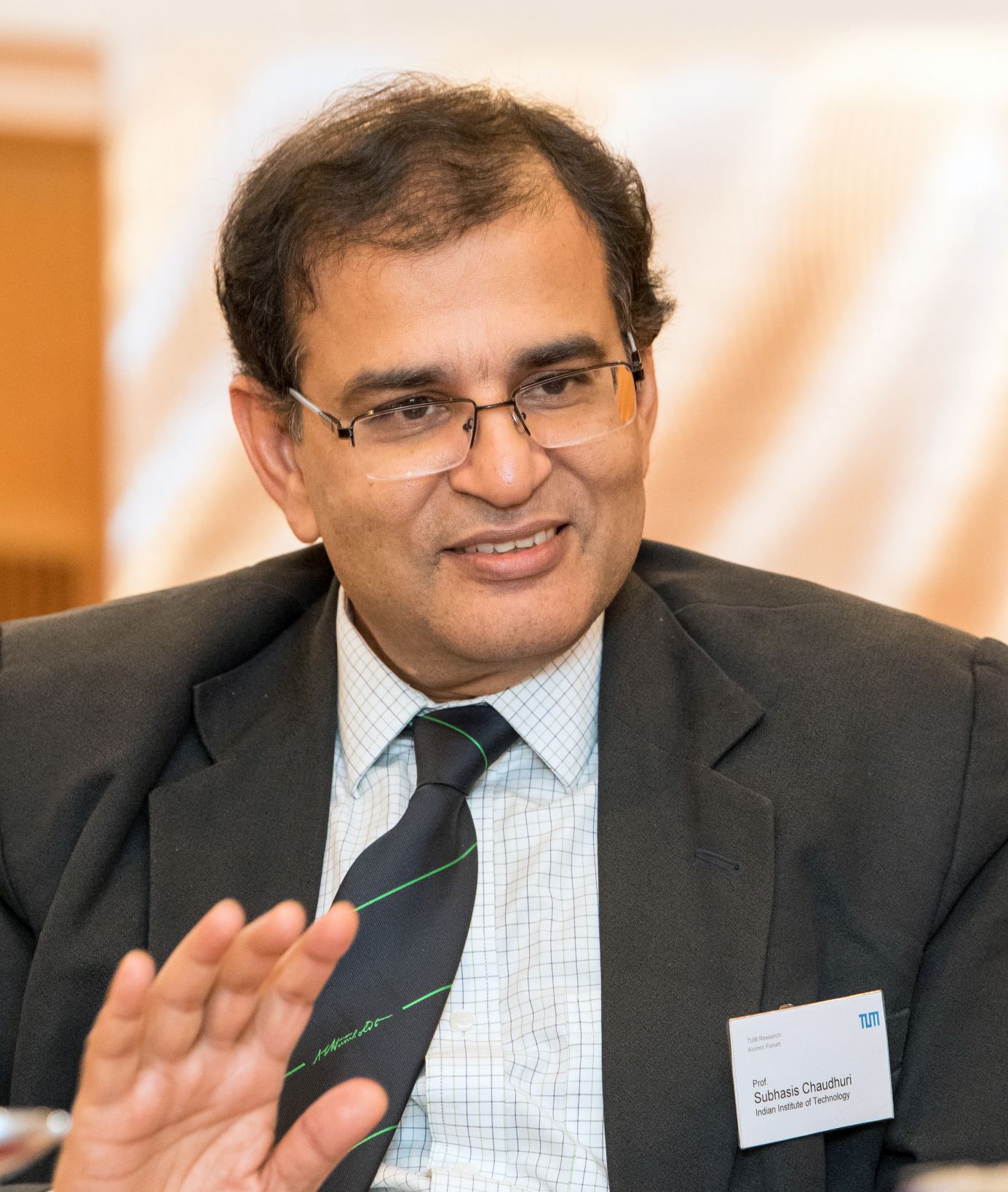 Prof. Dr. Subhasis Chaudhuri
Alexander von Humboldt Fellow at TUM 2007 and TUM Ambassador 2019
Subhasis Chaudhuri graduated in 1985 with a degree in Electronics and Electrical Communication Engineering from the Indian Institute of Technology in Kharagpur, India. He received his Master's degree in Electrical Engineering from the University of Calgary in Canada in 1987. Following that he earned his doctorate from the University of California in the USA in 1990.
The same year, he returned to India and took up his career as Assistant Professor at the Indian Institute of Technology in Bombay. In 1994 he was appointed Associate Professor and in 1998 he was promoted to Full Professor at the Kamalnayan Bajaj Chair of the Department of Electrical Engineering. There he became Head of Department in 2005. He was Dean of International Relations, Head of the IIT Bombay Monash Academy and Deputy Director of the IIT Bombay. In 2019 he was appointed Director of the IITB.
Subhasis Chaudhuri lives in a suburb of Mumbai with his wife and two children. In his scarce free time, the highly endowed researcher finds inspiration in the music of the Bengali composer Tagore and the texts of Advaita Vedanta, a non-dualistic philosophical movement.
In December 2019, Subhasis Chaudhuri was awarded the honorary title TUM Ambassador by TUM President Prof. Dr. Thomas Hofmann.