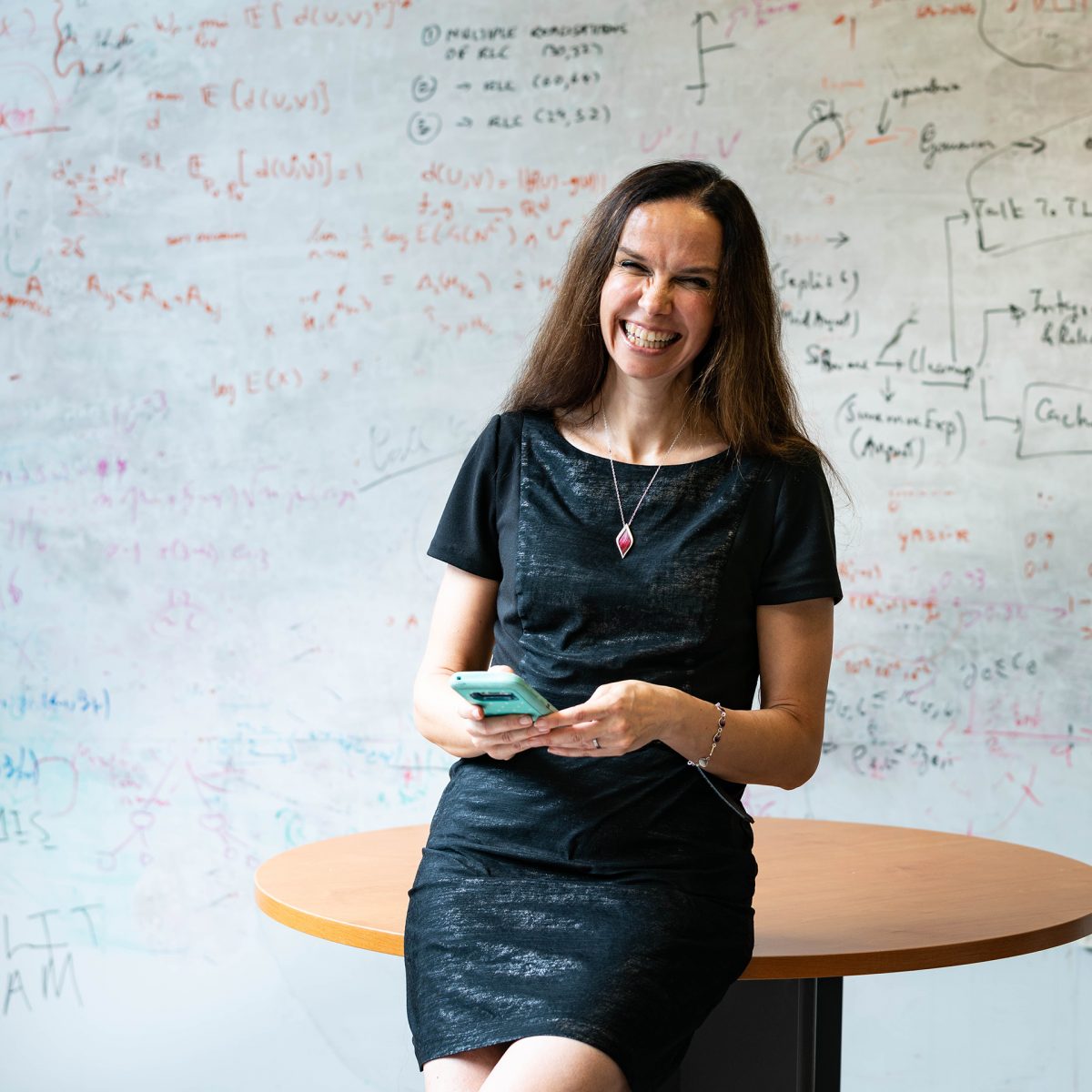 TUM Ambassador Muriel Médard
"I am a pathological optimist"
TUM Ambassador Muriel Médard is a world-renowned network coding pioneer. By applying original algorithms, the Professor of Electrical Engineering at MIT has solved a fundamental problem in established decoding practice. The developed a chip capable of decoding any code.
Professor Muriel Médard is an internationally recognized elite researcher in the field of coding systems and network communication. She has established three start-ups in order to accelerate the technology transfer of her inventions. In 2014, the mother-of-four was appointed Professor of Electrical Engineering and Computer Science at Massachusetts Institute of Technology in Cambridge, USA.
Médard tackles the challenges she faces as a professor, a researcher and an entrepreneur in a serene, unruffled approach. "As a mother of four children, I learned to handle entropy and multitasking early on," she says. "I set long term priorities. I am flexible in how I get there and sometimes take a rather zig-zag route."

UNDILUTED OPTIMISM
Growing up, Muriel Médard was unsure what she should study or what career she should pursue. Ultimately, in electrical engineering, she found a combination of two of her passions: creativity and the ability to control things precisely. She completed her Master's degree in the field at MIT in 1991. And, as she found such enjoyment in researching digital information transmission, she decided to embark on a doctorate.
With Robert Gray Gallager as her doctoral supervisor, Muriel Médard had the opportunity to learn from one of the great minds of information theory and computer networks. Under his supervision, she focused her attention on wireless networking – a decision that put her far ahead of her time. By the time she received her doctorate in 1995, global research on the subject was beginning to take off in earnest. Later, she was able to be involved from the inception of network coding. The emerging digital communication network comprising speech, data, text and images had created demand for efficient coding systems. Muriel Médard was able to supply answers.

CREATIVE SOLUTION
Recently, Muriel Médard has not been impressed with conventional approaches to coding. Most were oriented towards a worst-case scenario, with codes added to all signals during transmission as a precaution so that the receiver could remedy any errors or reconstitute lost data. However, in order to decode and use these complex codes, the receiver always needed to have a code-specific chip or an additional piece of hardware.
By contrast, Muriel Médard wanted to develop a coding mechanism based on optimistic assumptions. Her goal was to make transmission more resource-efficient and time-efficient. Together with her working group at MIT and her husband, Ken Duffy, a mathematician at Maynooth University in Ireland, she succeeded. Her coding method implements bug-fixing measures not on the sender side but on the receiver side. The silicon chip co-developed by Médard, Ken Duffy and Professor Rabia Yazicigil renders the decoding hardware required to date superfluous. It facilitates universal decoding of all possible codes, and even codes that do not yet exist, in a fraction of a second.
"I am a pathological optimist," says Médard. "Our solution for this long-standing decoding problem is a great example of solving a problem by thinking about it in a new, more optimistic way." The chip is future-proof and has an array of potential uses: it can help to accelerate Internet connections and improve image quality for content streaming, gaming systems and live events.
A SPECIAL SPIRIT
For more than ten years now, Muriel Médard has been visiting TUM to pore over innovative network codes with researchers at the Department of Electrical and Computer Engineering. On each occasion, she is thrilled to see to special esprit present at TUM. "A good, productive scientific collaboration is not something that can be contrived," says the French-born academic. "Researchers need to connect on intellectual and personal levels." In 2020, Muriel Médard received an honorary doctorate from TUM. In 2021, the elite researcher was awarded the honorary title of TUM Ambassador.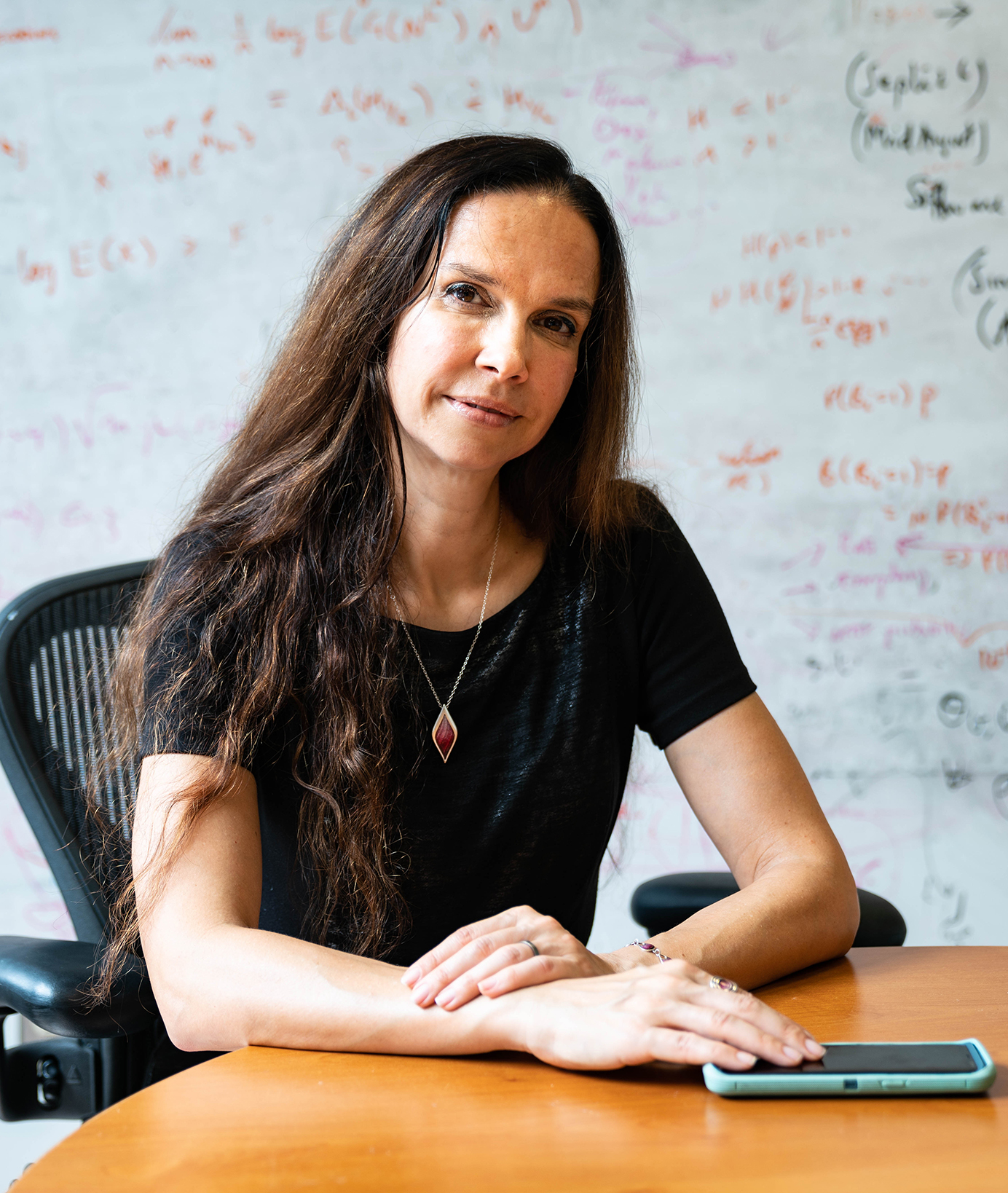 Prof. Dr. Muriel Médard
TUM Ambassador 2021
Muriel Médard gained all five of her degrees at the Massachusetts Institute of Technology in Cambridge, USA: Bachelor's degrees in Electrical Engineering and Computer Science, Mathematics, and Humanities, as well as a Master's degree and a doctorate in Electrical Engineering. She then became an assistant professor at the University of Illinois at Urbana-Champaign. In 2000, Médard returned to MIT, where she has taught and researched ever since. She is the Cecil H. and Ida Green Professor of Electrical Engineering and Computer Science and also leads the Network Coding and Reliable Communications Group at the Research Laboratory for Electronics at MIT. Together with Maynooth University and Boston University, Médard developed a silicon chip capable of decoding any code: the Guessing Random Additive Noise Decoding chip, or GRAND chip for short. She also co-founded three start-ups in an effort to make network coding systems she developed available to a wider audience.
Muriel Médard has been selected as a member of some of the most prestigious scientific associations in the USA, including the American Academy of Arts and Sciences and National Academy of Engineering. In 2012, she was elected President of the IEEE Information Theory Society. Muriel Médard's list of awards is truly remarkable. She received the 2019 Best Paper Award for IEEE Transactions on Network Science and Engineering. In 2017, she was recognized with the Aaron Wyner Distinguished Service Award for the mentoring program she set up for women in information theory. Muriel Médard holds over 50 US and international patents.

2021 Muriel Médard was awarded the honorary title of TUM Ambassador by TUM President Thomas F. Hofmann. In recognition of her achievements, selected top international researchers who have conducted research as guests at TUM have been awarded this title once a year since 2013.