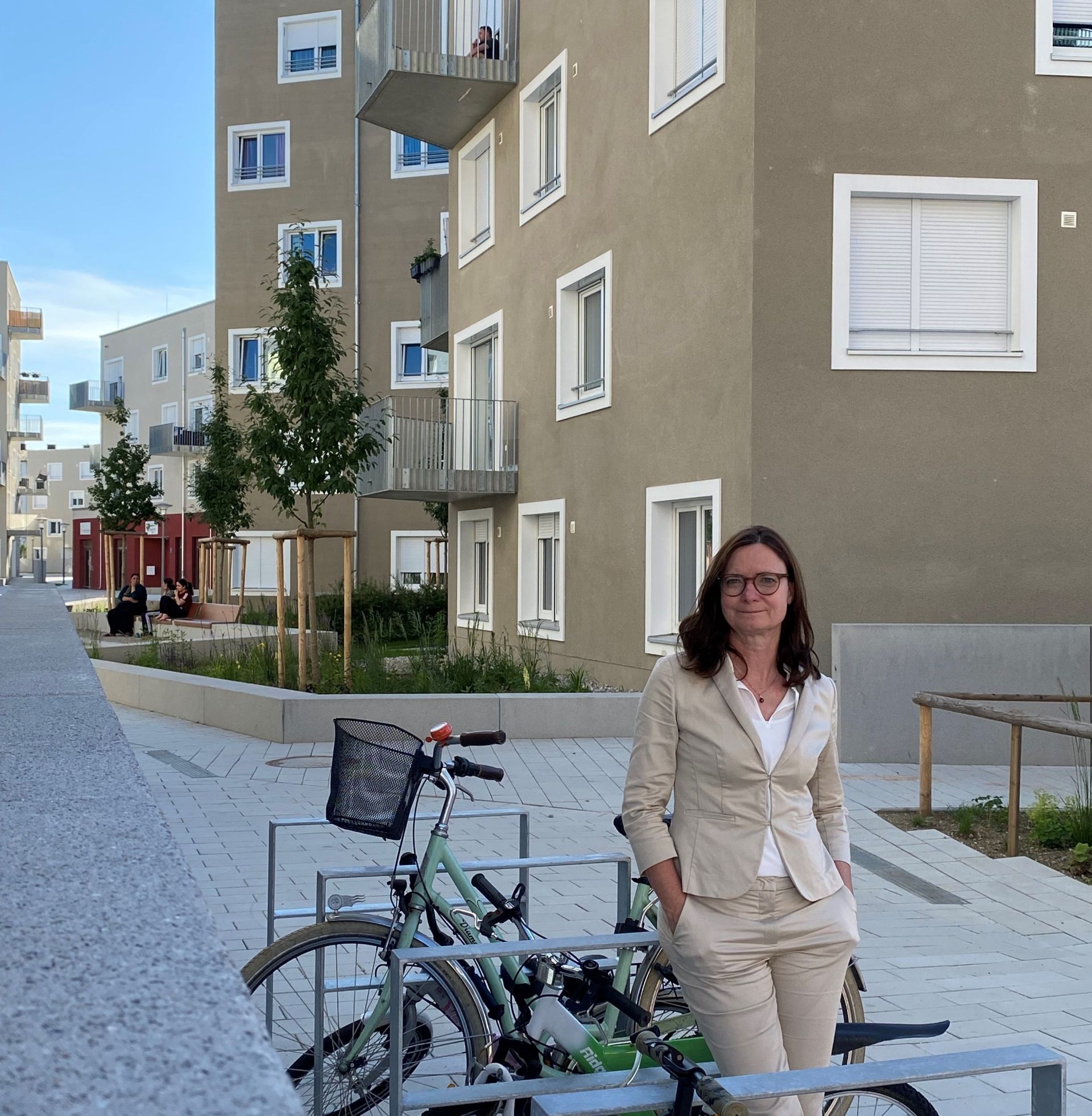 Architect and Urban Planner Doris Zoller
"Climate Change Mitigation is the biggest challenge in housing"
TUM Alumna Doris Zoller has always found herself in male-dominated environments. However, for her this is not an issue. As a strategic planner for the Housing Department of the City of Munich, she carries out her duties with seasoned poise. Her time at TUM further honed her knack for networking and her readiness to embrace new ideas.
Dr. Doris Zoller is a doer. Even as a child, she wanted to decide and shape things herself. In a team, she liked to take the lead. After completing her doctorate in Architecture at TUM, she had the opportunity to work in strategic planning for the Housing Department of the City of Munich. Since 2022, she has been one of the managing directors of GEWOFAG, Munich's largest municipal housing company.
By taking this step, Doris Zoller did not decide against an academic career. She opted for the opportunity to play an active role in shaping the housing industry in Munich. "Housing is one of the most essential basic needs of society and brings with it an incredible responsibility," she says. "This is where I feel needed."
AN ARCHITECT THROUGH AND THROUGH
Doris Zoller enjoyed drawing, building and crafting ever since she was little, and loved technology. She inherited her passion for nature and its beauty from her father, but also for the beauty of architecture. When traveling with her parents, visiting churches, castles and exhibitions was always part of the itinerary. After an apprenticeship as a carpenter, she studied Architecture at the Stuttgart State Academy of Art and Design and the Escola Tècnica Superior d'Arquitectura de Barcelona. Subsequently, she specialized in Urban Strategic Planning with a Master's degree at the Berlage Institute in Rotterdam.
In 2003, Doris Zoller came to Munich as a research assistant at TUM. Here she helped set up the Chair of Urban and Regional Planning. She quickly realized that the other "strong women" – Prof. Sophie Wolfrum, Prof. Regine Keller, Prof. Dr. Elisabeth Merk and Prof. Christiane Thalgott – shared her understanding of Architecture. They saw Architecture not only as structural engineering, but as a complex socio-cultural interplay between public and private spaces, between functionality and urban identity. Here Doris Zoller felt at home and was in the right place to pursue her doctorate. On behalf of the Wüstenrot Foundation, she led a research project on the ground floor level in dense residential spaces in Europe and organized an international conference in cooperation with TUM. Her publications are considered standard references on the subject.
A CLEAR HEAD FOR NEW PERSPECTIVES
Doris Zoller gained a lot from her time at TUM to help her in the professional world and in her management role. Thinking outside the box and being open to new things has always been in line with her own personality. At TUM, she once again realized how important different perspectives and interdisciplinarity are in order to meet the ever-growing challenges in Architecture and construction. "We went on many field trips to other countries with the chair and regularly worked with retired luminaries in the field of Urban Planning, such as Prof. Dr. Dr. Gerd Albers," she recalls. "At the chair, it was clear to us that Architecture can only create something new when there is close collaboration between different schools of thought and disciplines."
STRONG TOGETHER – COMBINING CLIMATE PROTECTION AND URBAN LIVING
Interdisciplinary work and networking are also key aspects of Doris Zoller's work for the City of Munich. She still draws on numerous contacts from her time at TUM. As a follow-up project to Dante I at the Dantebad in Munich she designed the Dante II residential development in collaboration with TUM Professor Florian Nagler. The hybrid timber construction received a great deal of media coverage. As a research partner from the housing industry, GEWOFAG is currently applying for a research project on the topic of "Einfach Um-Bauen" ("Simple Re-building") together with the TUM chairs of Prof. Florian Nagler, Prof. Thomas Auer and Prof. Andreas Hild. Here, concepts for robust and cost-effective renovations of post-war residential buildings are to be investigated.
For the centrally located residential project 'Kreativfeld' in the Creative Quarter, Doris Zoller brought all project partners together for the first time in order to set the parameters for the highest quality as early as in the planning phase. Her current pilot project is an integrated further development of the GEWOFAG residential complex Ramersdorf Süd. The goal is to transform it from a post-war housing development into a flagship carbon-neutral neighborhood. "Climate Change Mitigation is the biggest challenge in housing," she says. "The only way to meet this challenge is in a joint discourse. I believe my role here is to offer guidance and strategic direction."
Doris Zoller has always moved with ease in male-dominated environments. She personally has never experienced any resentment or opposition from her male colleagues – not from her two brothers, during her carpentry apprenticeship, as a student of Architecture, or in construction. "I have also always been surrounded by strong women," she says. "And I am a strong woman myself."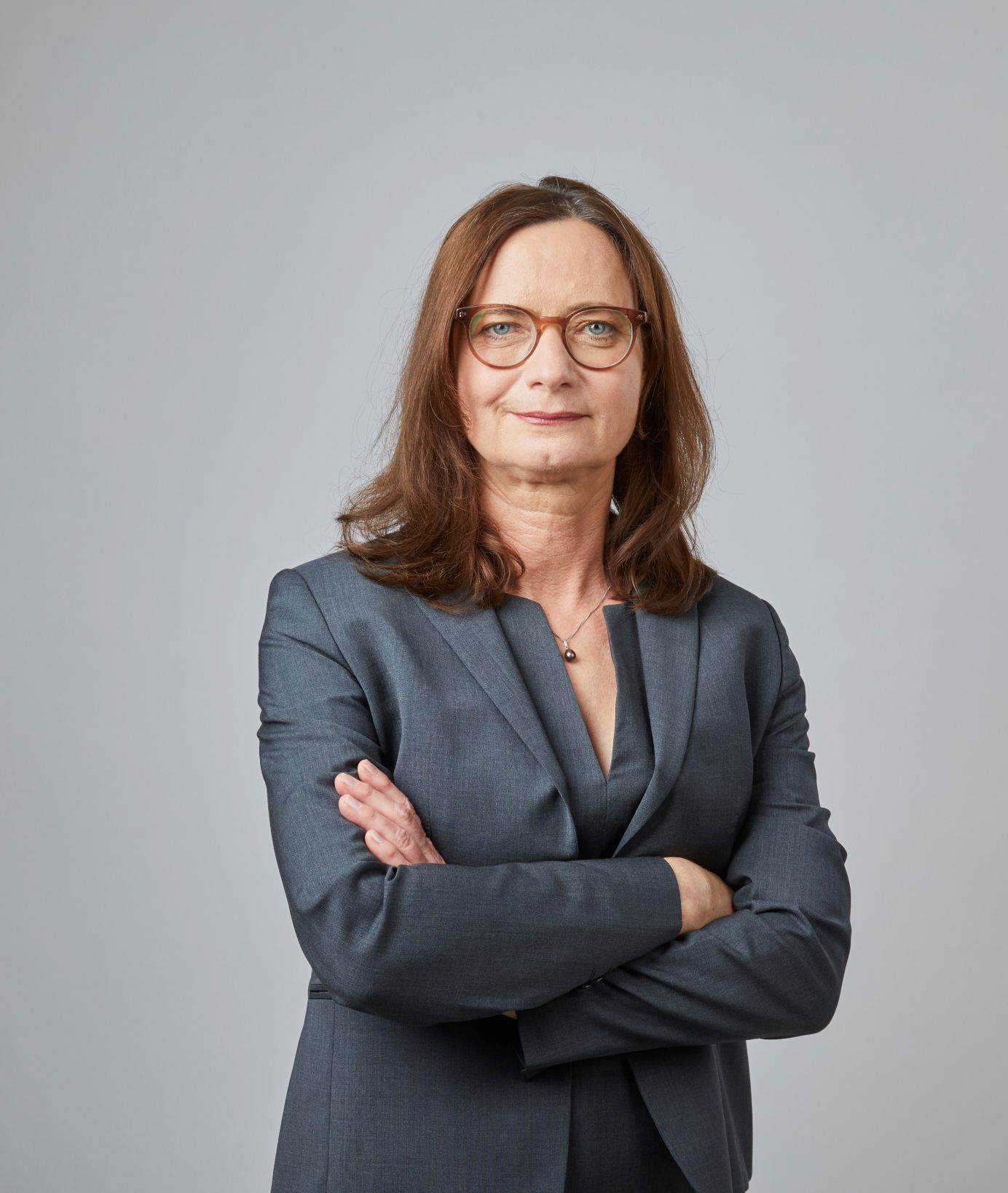 Dr. Doris Zoller
Doctorate Architecture 2016
After an apprenticeship as a carpenter, she studied Architecture at the Stuttgart State Academy of Art and Design and the Escola Tècnica Superior d'Arquitectura de Barcelona. She earned a Master's degree from the Berlage Institute in Rotterdam. From 2003 to 2016, she was a partner at ZODA Architects with offices in Munich and London.
Between 2003 and 2010, she taught as a research assistant at TUM's Chair of Urban and Regional Planning. Here she also completed her doctorate in 2016. Doris Zoller was highly impressed by how family-friendly TUM is. As a mother of two young children, the daycare, kindergarten, and childcare during the holidays were of great value to her as a research assistant and doctoral student.
Since 2016, Doris Zoller has been working for GEWOFAG in executive roles, since 2022 as its Managing Director.
Doris Zoller currently lives in Berg with her husband. They share the same interests. Together they enjoy nature and the cultural activities the City of Munich has to offer. Their two children, a son and a daughter, have already moved out.