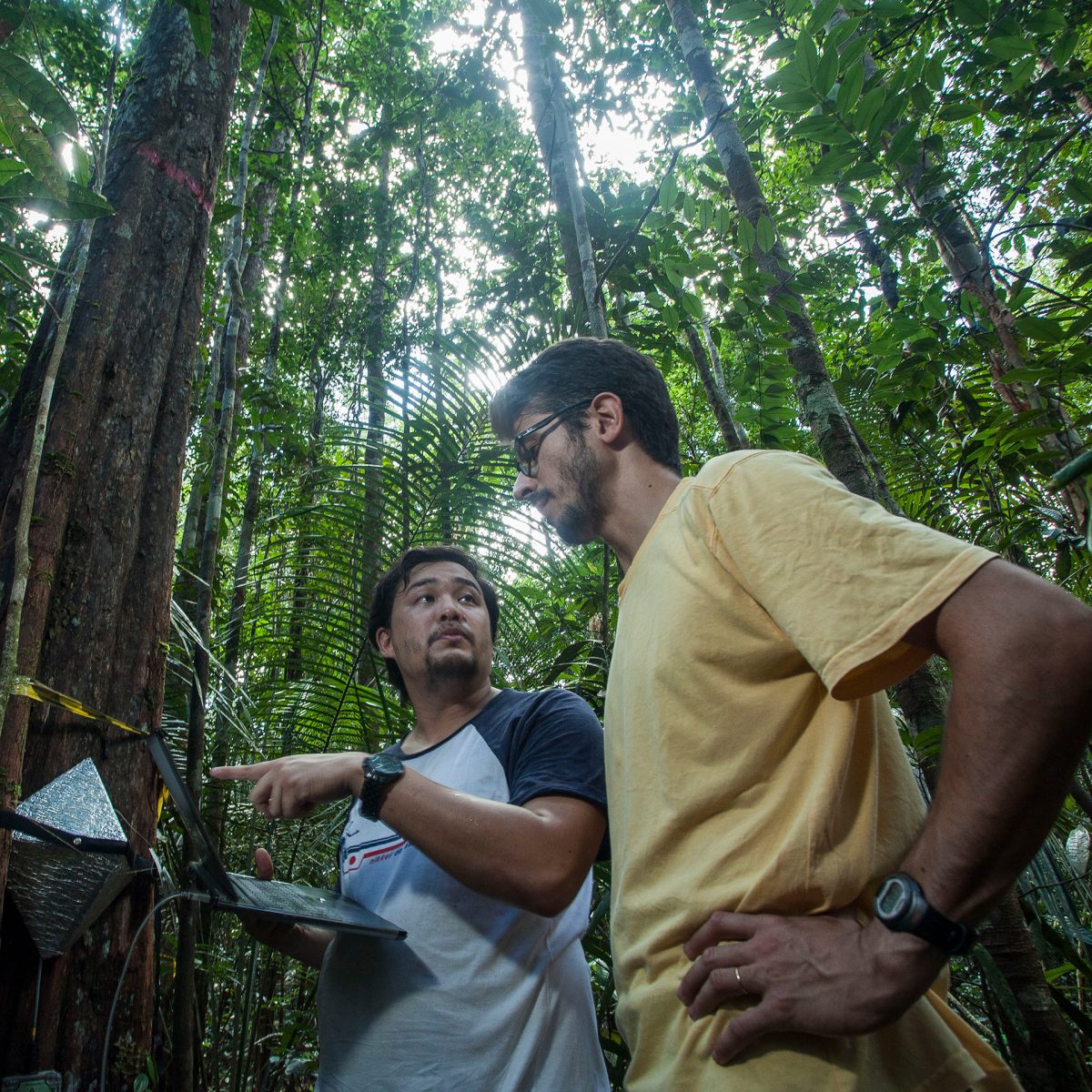 Uncovering the Secrets of the Rainforest
The Amazon Rainforest covers an area half the size of the United States of America. It spreads over nine countries, with thousands of rivers running through it, and is home to countless species of animals and plants, only about 20 percent of which are known to us. And it is the workplace of TUM Ambassador David Lapola. As a collaborative partner in Brazil, the professor is working with a team from TUM on a unique experiment and wants to find out what impact climate change has on the rainforest.
David Lapola almost didn't return from one of his first trips to the Amazon Rainforest. "Don't get lost," he and his fellow students had been cautioned. "Otherwise, chances are you'll never find your way back." But for one of his investigations – at the time he was studying the interaction of ants and plants – he had to go off on his own without the group. On this auspicious day, he ventured two to three kilometers away from camp on marked trails, inspecting the plants, and when he turned around, he suddenly didn't know where he had come from anymore. "That's it. Tonight I will have to sleep here," David Lapola thought – who, twenty years later – tells the story with a big grin on his face.
A Nature Enthusiast Since Childhood
Meanwhile, David Lapola is Professor of Meteorology at the State University of Campinas in Brazil and a respected expert on the ecology of global change. His enthusiasm for the rainforest started right there in Manaus when he was a young student: "It was an incredible experience to see these giant trees for the first time. They were so much taller than anything I had ever seen before. I felt like a tiny part in this forest that felt limitless, with life growing and thriving in every corner." A dream come true for David Lapola. Even today, he discovers something new on each of his visits: an insect, a fungus, a plant that he had not known before. "When people ask me about the motivation for my work, I can give them highly scientific reasons, but the most honest answer is that I want future generations to be able to experience and marvel at this forest, this abundance. Just like I did when I first stood here twenty years ago."
THE FIRST EXPERIMENT OF ITS KIND IN THE TROPICS
Currently, David Lapola is working on a unique experiment together with TUM professor and climate scientist Dr. Anja Rammig as part of a unique project that aims at unlocking one of the rainforest's many secrets: AmazonFACE. The Amazon Rainforest absorbs large amounts of carbon dioxide, a greenhouse gas that is harmful to the climate. But deforestation, agriculture and rising temperatures are pushing the tropical forest's ability to do so to a limit. What is going to happen when the rainforest will no longer be able to hold these amounts of carbon dioxide?
Podcast
David Lapola and his Research
In the TUM Institute for LifeLong Learning's podcast 'TUM Global', David Lapola talks about his research in the Amazon Rainforest and reveals why it is so important to find out if the rainforest will continue to be a carbon sink.
FACE projects realistically study how the higher carbon dioxide levels expected in the future will affect the ecosystem. FACE stands for 'Free Air CO2 Enrichment'. It describes a technical experimental setup in which a part of the forest is exposed to an increased concentration of carbon dioxide.
A FACE project in the tropics has been on scientists' wish lists for more than twenty years. "It's logistically complex, it's expensive, it requires a lot of planning and coordination, and it requires a very good scientific team to work together. In short, it basically is a lot of work," David Lapola explains. He is looking forward to finally taking on this challenge. And he is very proud of his international team, which is enthusiastic and personally committed to the project. As this is the first FACE experiment in the rainforest in Brazil, he is particularly pleased to be working with Anja Rammig, with whom he already conducted joint research during a short stay at TUM in 2017 and who contributes a great deal of expertise in this field.
VALUABLE LESSONS
Protecting the rainforest and preserving it for future generations has been David Lapola's goal since the day it almost devoured him. But how did he find his way back in the end? "It was only 30 minutes, but to me it felt like ages. I was really desperate. It's not like you can walk in one direction for a while and come out on some road. In the Amazon Rainforest, you can walk for months and, if you're lucky, you maybe end up in Venezuela at some point," David Lapola laughs.
He had been warned beforehand that he would only get more lost if he walked back and forth to try to find his way out. So he first took out the orange from his backpack he had brought. "I peeled it piece by piece and ate it. Slowly my anxiety subsided and I recognized a notch on a tree in the distance that I had made with my machete on the way. So I went there and recognized another notch on another tree." Step by step, he found his way back. Most certainly he will forever remember this experience as the 'strangest thirty minutes' of his life. Along with many other valuable lessons learned in the Amazon Rainforest.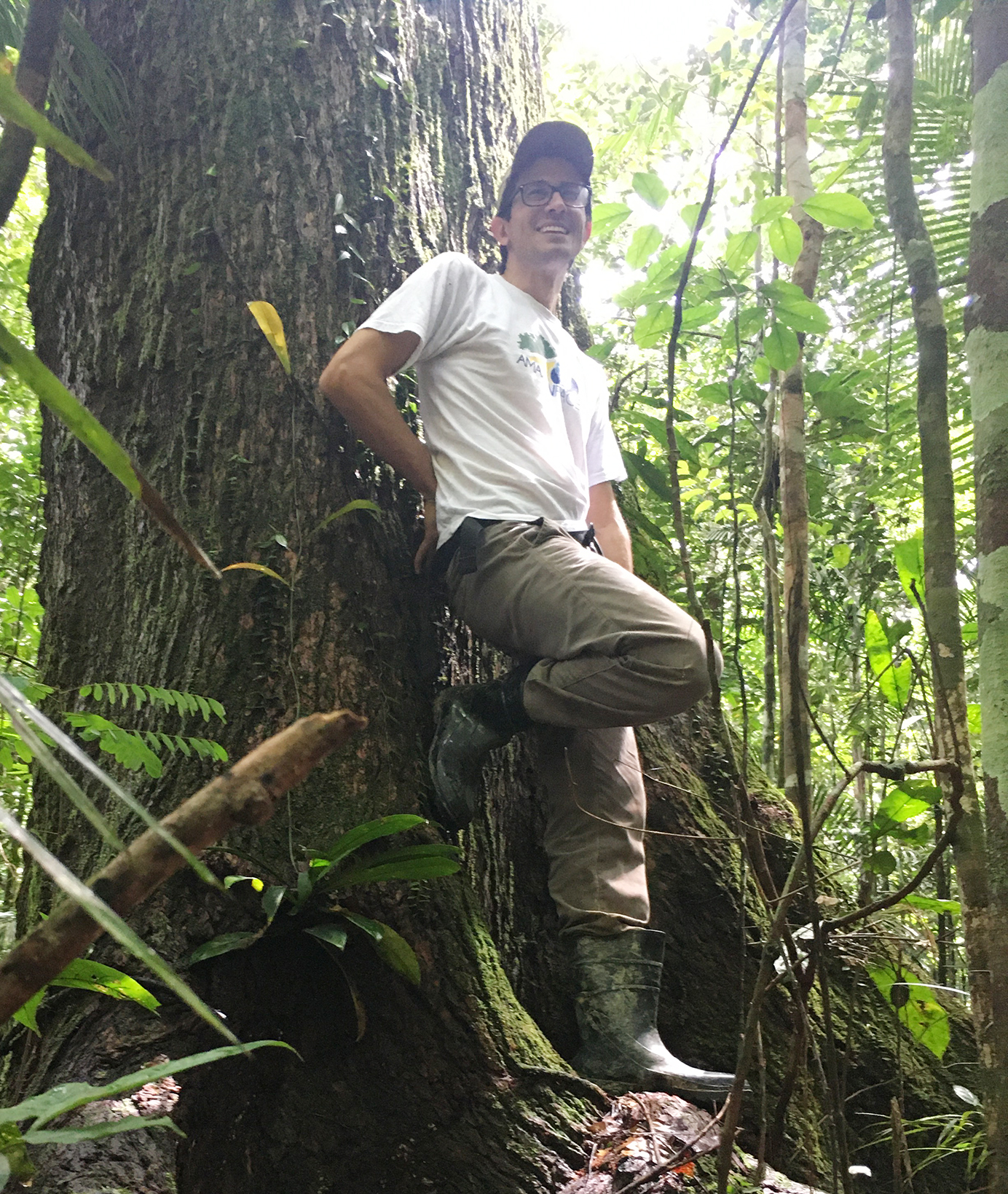 Prof. Dr. David Lapola
TUM Ambassador 2021
David Lapola is one of the emerging scientists in the field of Ecology. After a Bachelor's degree in Ecology, he completed a Master's degree in Metrology at the National Institute for Space Research in Brazil (INPE) and came to Germany in 2007 to pursue a doctorate at the Max Planck Institute for Meteorology. After a postdoc at the INPE and an assistant professorship at the University of São Paulo (UNESP), he joined the State University of Campinas as a professor in 2017. In the same year, he came to TUM as an August-Wilhelm Scheer Visiting Professor, working with German climate scientist Prof. Dr. Anja Rammig. In 2019, their collaborative work was published in Nature Geoscience. The AmazonFACE project is a long-term experiment to study how future expected higher carbon dioxide levels will affect the ecosystem.
In 2021 David Lapola was awarded the honorary title of TUM Ambassador by TUM President Thomas F. Hofmann. Since 2013, selected top international researchers who have been visiting researchers at TUM annually receive this title in recognition of their achievements.