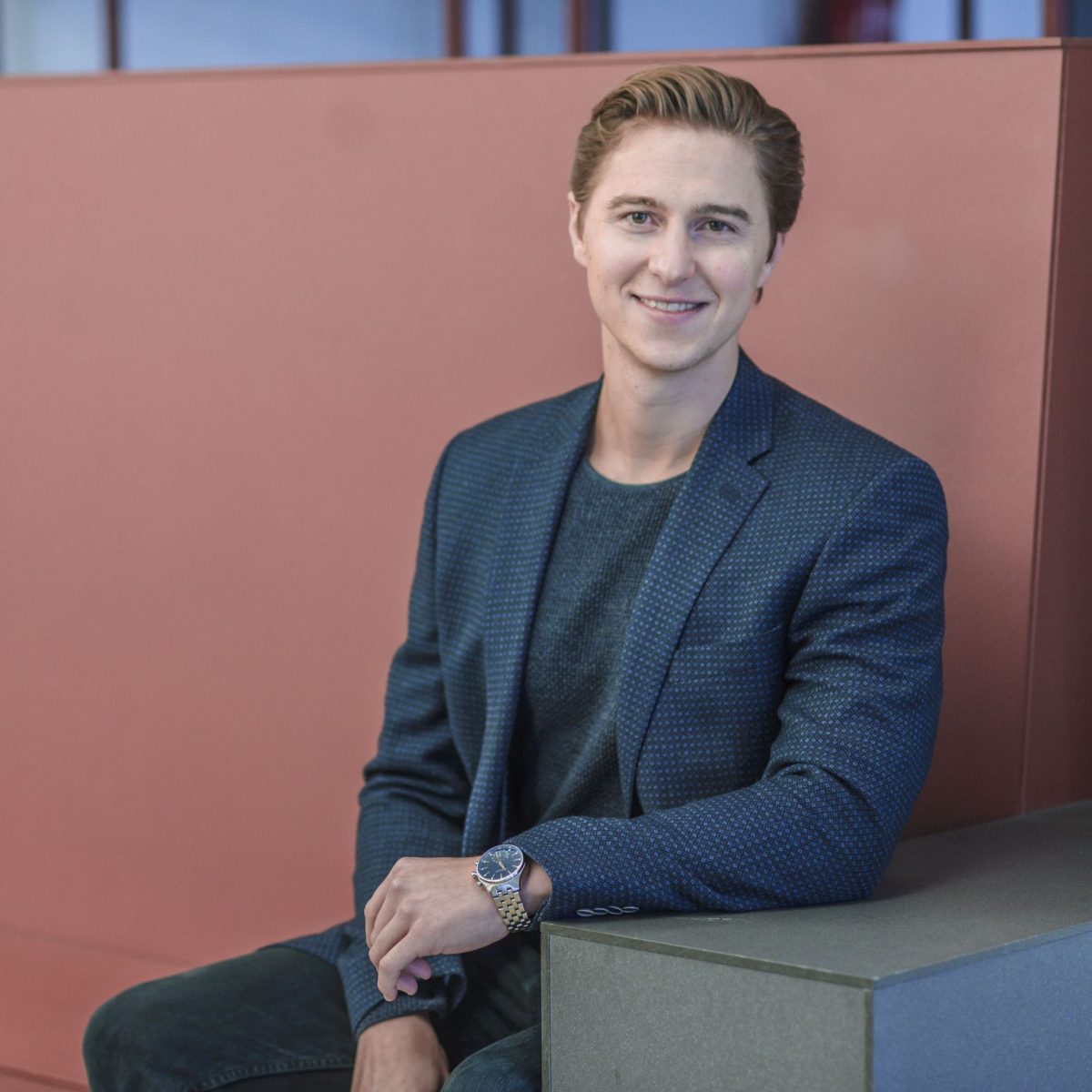 "What they do in Silicon Valley isn't rocket science either"
Andreas Kunze matches the word high-flier like nobody else. For six years he has been CEO of his own company. Since then, Andreas Kunze is jetting around the world and back and forth between the offices in Munich, San Francisco, Paris and Tokyo. He is meeting important entrepreneurs of Silicon Valley, as well as chancellor Angela Merkel and other political heavyweights. As a 'technology pioneer' 2018, he was an invited guest at the World Economic Forum in Davos also this year. Here, leading experts get together to discuss current global issues.
One of KONUX biggest clients is Deutsche Bahn. The company uses sensor data to be able to make statements on the condition of facilities in the railway network, such as a switch. This allows for better planning of repairs and their scheduling to times of lower capacity utilisation. This means that in the event of repairs, the entire operation does not have to be shut down. Across Europe, broken switches account for almost 20 percent of all delay minutes.
BIG VISIONS 
"We want to play our part in making railway systems worldwide more reliable, so that more people and goods will be transported by this sustainable means of transport," says Andreas Kunze. "If you look at where the emissions come from today, you quickly realize that with 23 percent, the transport sector is one of the biggest drivers. However, the different modes of transport contribute to it in very different ways. Compared to air travel, railway only causes 7 percent of the emissions. If more people and goods were to travel by rail, this would contribute significantly to reducing emissions worldwide." The market is very special, however, as there is usually only one major rail operator in each country. But Andreas Kunze and his team are already operating in 9 countries with seven customers in Europe and three in Asia, more precisely in China, Japan and India, where the three largest railway networks on the continent are. "By the end of next year, by the way, we want to be operating in 22 countries. That's a sporting goal, but we're doing very well."
Andreas Kunze has no entrepreneurial background. "My mother was a part-time accountant with a small company in Munich, my father is a civil servant at Bayerische Versorgungskammer and has studied law. They are both not the most risk-taking personalities." But he was – as he says – very lucky with the people he met during his studies and in the early stages of the company's creation. These include his personal mentor Andy von Bechtolsheim, one of the first investors in Google, who also studied at TUM for a few semesters. "He knows Silicon Valley extremely well, has set up several companies himself and has experienced first-hand what is important," says Andreas Kunze.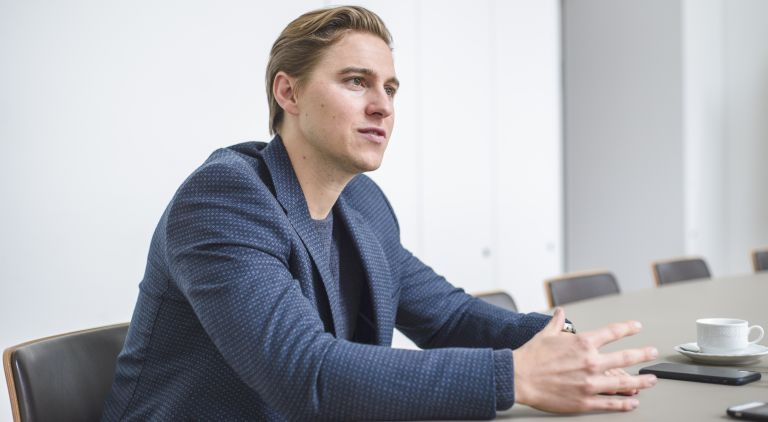 MEETING POINT UNIVERSITY 
Andreas Kunze also got to know his co-founders Dennis Humhal, Vlad Lata and Maximilian Hasler while studying Information Systems at TUM. In his fourth semester he participated in the Manage&More programme of UnternehmerTUM, the center for innovation and business creation at TUM. "Here students with different technical backgrounds work together, and it was here that I met Dennis, my later co-founder, who studied Mechanical Engineering." Together with Maximilian and Vlad, he attended courses at the Center for Digital Technology and Management, a joint institution of TUM and LMU that focuses on training highly gifted students and promoting entrepreneurship.
SEARCH FOR INVESTORS AT SILICON VALLEY 
Having completed his bachelor's degree in Information Systems, Andreas Kunze began his master's studies at TUM and shortly after, the young men sparked the idea for their company. "So in the second master's semester I attended the business plan seminars at TUM to bring the whole thing from my head to paper. In the third semester, it would have been time for my master's thesis and I wanted to write it at Stanford. I had a scholarship for a research fellowship."
In the USA, however, everything developed somewhat differently than planned. Instead of concentrating on his studies, Andreas Kunze went looking for investors in the US and met many CEOs who had made a name for themselves in Silicon Valley: "Most of them were only around 30 years old and the technologies they had developed were good, but they weren't rocket science either. So I thought to myself, I can do that, too."
ECOSYSTEM FOR STARTUPS 
Today, Andreas Kunze manages a company with over 90 employees that is represented in 9 countries. As one of the goals for the coming years, the young founders are aiming for an IPO in the US. "At best, we will have several hundred employees by then, who will have shares in our company and will receive a disproportionately high amount of money from the IPO – which they will then either use for a start-up or to invest," says Andreas Kunze. "And then, at some point, we will have Germany's largest ecosystem for start-ups in Munich – and not in Berlin."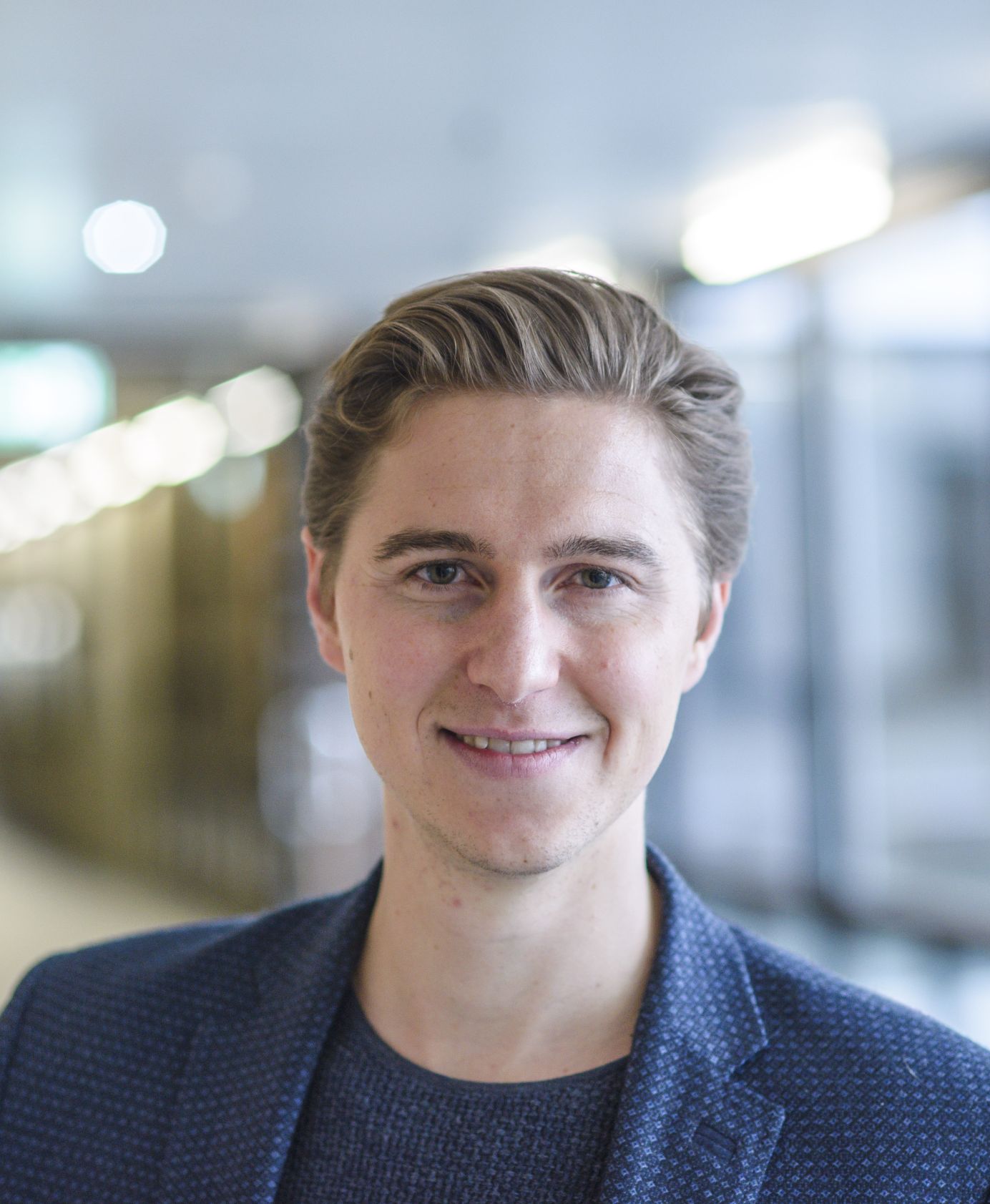 Andreas Kunze
Bachelor Information Systems 2013
Andreas Kunze was born and raised in Munich. After his Abitur at a high school with a focus on economics, he opted for a Bachelor's degree in Information Systems at TUM. Here he met his later co-founders Maximilian Hasler, Vlad Lata and Dennis Humhal. During his subsequent Master's studies, Andreas Kunze went to Stanford University in California in 2014 on a scholarship. At the same time and together with Maximilian Hasler, Vlad Lata and Dennis Humhal, he set up his company KONUX, whose CEO he is today.
Already in spring 2015, the four young entrepreneurs succeeded in obtaining initial funding of two million dollars from investors in Silicon Valley. KONUX combines smart sensors and analytics based on artificial intelligence and enables railway companies to improve the capacity of their rail networks, and thus improve punctuality through predictive maintenance planning and optimised use of railway lines. Consequently, Konux's mission is to make rail travel tomorrow's preferred mode of transport by increasing capacity, reliability and cost efficiency. One of the largest and most important clients is Deutsche Bahn. Early last year, KONUX closed its Series B funding round with a total volume of 33 million USD.
Andreas Kunze is one of the World Economic Forum's 'European Digital Leaders', as well as a Member of the Expert Advisory Board for Artificial Intelligence at the Bavarian Ministry of Economic Affairs, Regional Development and Energy and a 'European Young Leader under 40'. At the beginning of 2017, he was added to the 'Top 30 under 30 Europe' list of the American Forbes Magazine and three times to the '40 under 40′ entrepreneurs list of Capital magazine. He is part of Leaders for Climate Action and for the past year, Andreas Kunze has been the youngest member of the Global AI Council of the World Economic Forum (WEF).
In addition to the 'German Mobility Award' of the German Ministry of Transport and the German digital award 'The Spark', KONUX has received the TUM Presidential Entrepreneurship Award in 2017, which annually honours an outstanding spin-off, whose business idea is based largely on results from research conducted at TUM. In 2020, US-Tech Market Intelligence Platform CB Insights nominated KONUX as one of the 100 most promising AI companies in the world for the second time.
Interview with Andreas Kunze: the whole conversation is available here>