Entrepreneurs Arthur Singer, Christoph Dietrich und Nam Truong
"Our aim is to revolutionize the use of energy"

With their start-up, TUM Alumni Arthur Singer, Christoph Dietrich and Nam Truong have developed a groundbreaking technology for the switch to clean energy. TUM played a key role in supporting the founders' team in their endeavor.
As we move toward climate neutrality, battery storage systems are considered a key technology. As more and more of the large centralized coal and nuclear power plants are shut down and are being replaced by scores of small and decentralized wind turbines and solar panels in the future, storage systems will keep the grid stable. And whenever there is no wind or no sun and thus no energy, they will feed the already stored solar and wind energy into the grid.
The power conversion technology developed by TUM Alumni Dr. Arthur Singer (Diploma Electrical and Computer Engineering 2012), Christoph Dietrich (Master Management & Technology 2018) and Dr. Nam Truong (Diploma Electrical and Computer Engineering 2013, Doctorate 2018) make such battery storage systems more efficient, safer, cheaper and, above all, more environmentally friendly. "Our technology is taking us into uncharted territory," the entrepreneurs say. "We want to usher in a new era of battery storage and revolutionize the sustainable use of energy. Energy has to be cheap and available at all times."
BATTERY STORAGE SYSTEMS 2.0
Never had the TUM Alumni thought that they would start a technology company. But through their majors and research projects, they found a passion they shared: they wanted to develop an innovative solution to overcome the weaknesses of conventional battery storage systems. Arthur Singer had already done research on a promising electrical engineering approach in 2012 as part of his diploma thesis at TUM. He pursued the approach further in his doctorate at the University of the Federal Armed Forces Munich. He was offered funding for this groundbreaking subject through the EXIST research transfer program of the German Federal Ministry of Economics and Climate Protection.
Then suddenly, everything happened very quickly. Arthur Singer brought in electrical engineer Nam Truong, who brought in Christoph Dietrich to take over commercial management of the business. Electrical engineer Martin Sprehe from the Osnabrück University of Applied Sciences made the team complete. In 2019, they launched STABL Energy GmbH (at that time called m-Bee). Just as quickly as they had set up the company, the four entrepreneurs turned their university research into a working product with its first customers.
A well functioning team is at least as important as a well functioning product.
The start-up's innovative approach is based on two modifications to the battery storage systems previously available on the market. Firstly, a modular concept for battery systems: it guarantees a high level of reliability and improves safety during operation and installation. In addition, this so-called multilevel approach wastes less energy during conversion, which in turn reduces the operational costs of the storage systems. And secondly, the seamless and easy integration of recycled second-life batteries from electric cars: this increases the life-cycle of these batteries, reduces their resource consumption and has a positive impact on the environment. "What is happening with batteries today is a blatant waste of resources," the TUM Alumni emphasize. "With our technology these batteries can continue to be used and thus contribute to a sustainable and cost-effective switch to clean energy."
WE WOULDN'T EXIST WITHOUT TUM
The exchange with researchers from the TUM.Battery project of TUM's Munich Institute of Integrated Materials, Energy and Process Engineering was of great value for the young entrepreneurs as they developed their approach further. As part of the Design Enterprise funding program, their final company name and corporate identity were designed by the TUM Chair of Industrial Design. TUM set the course not only in terms of content and looks, but also financially: Investors got to know the young entrepreneurs through TUM's start-up consulting services and UnternehmerTUM, as well as through networking events and start-up related platforms such as the TUM IDEAward and the TUM Entrepreneurship Day. With the latest financing round, they now have 4.5 million euros in venture capital at their disposal.
The TUM Alumni agree that today, as entrepreneurs, they particularly benefit from the ability to work independently and in a self-organized manner, which they learned as students at TUM. "At TUM, we learned that you are responsible for your own success or failure," they emphasize. "Also as entrepreneurs, we need to be self-organized, decide what is important and prioritize." It comes as no surprise that Arthur Singer, Nam Truong and Christoph Dietrich are keen to recruit TUM Alumni to their ever-growing team. Seven of their twelve employees hail from TUM, and many of the working students have come directly through the TUM:EI:adveisor program. "A start-up needs people who don't just want to be a small cog in the machine of a big company and are willing to take responsibility and show initiative quickly," they explain. "We have had very good experiences with TUM Students and Alumni in this regard. A well functioning team is at least as important as a well functioning product."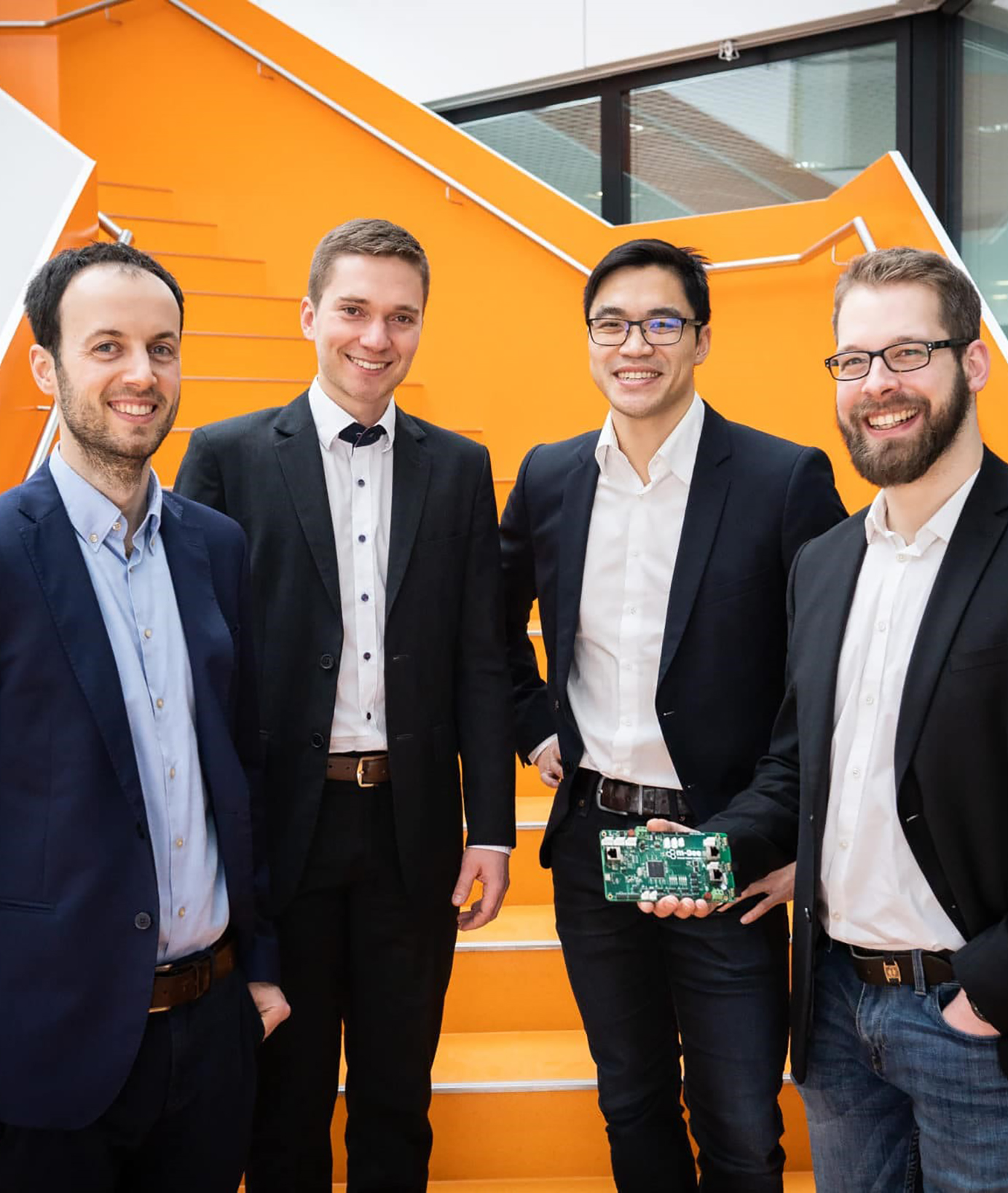 Dr. Arthur Singer, Christoph Dietrich und Dr. Nam Truong
Diploma Electrical and Computer Engineering 2012 
Master Management & Technology 2018
Diploma Electrical and Computer Engineering 2013, Doctorate 2018
Because the unique blend of management studies with a strong focus on engineering  really appealed to him, Christoph Dietrich enrolled in the Technology & Management program at TUM. In 2015, he completed his Bachelor's degree, followed by a Master's in 2018. Here he particularly focused on topics related to power management, energy use, and battery storage technologies. Christoph Dietrich rides his bicycle 30 kilometers to work every day.
In school Nam Truong breezed through subjects like Maths and Physics. Because of its reputation as a renowned elite university, he subsequently came to TUM to study Electrical and Computer Engineering.  In 2013, he earned his diploma, and in 2018, he completed his doctorate at the Institute for Electrical Energy Storage Technology. Here he played a leading role in the development of a simulation tool for the analysis and optimization of stationary battery systems. Only sporadically, but with passion, Nam Truong still does the Thai national sport Muay Thai in his spare time. In 2016, he was the German champion in Muay Thai boxing. To participate in the world championship TUM was more than happy to give him days off.
In 2019, TUM Alumni Arthur Singer, Christoph Dietrich and Nam Truong founded STABL Energy GmbH (then still m-Bee ) together with Martin Sprehe. The start-up develops power electronics for a modular design of battery storage systems, which are considered key components for integrating renewable energy generation and electromobility. With their start-up the entrepreneurs want to make their contribution to climate protection – in the hope that many others will follow.