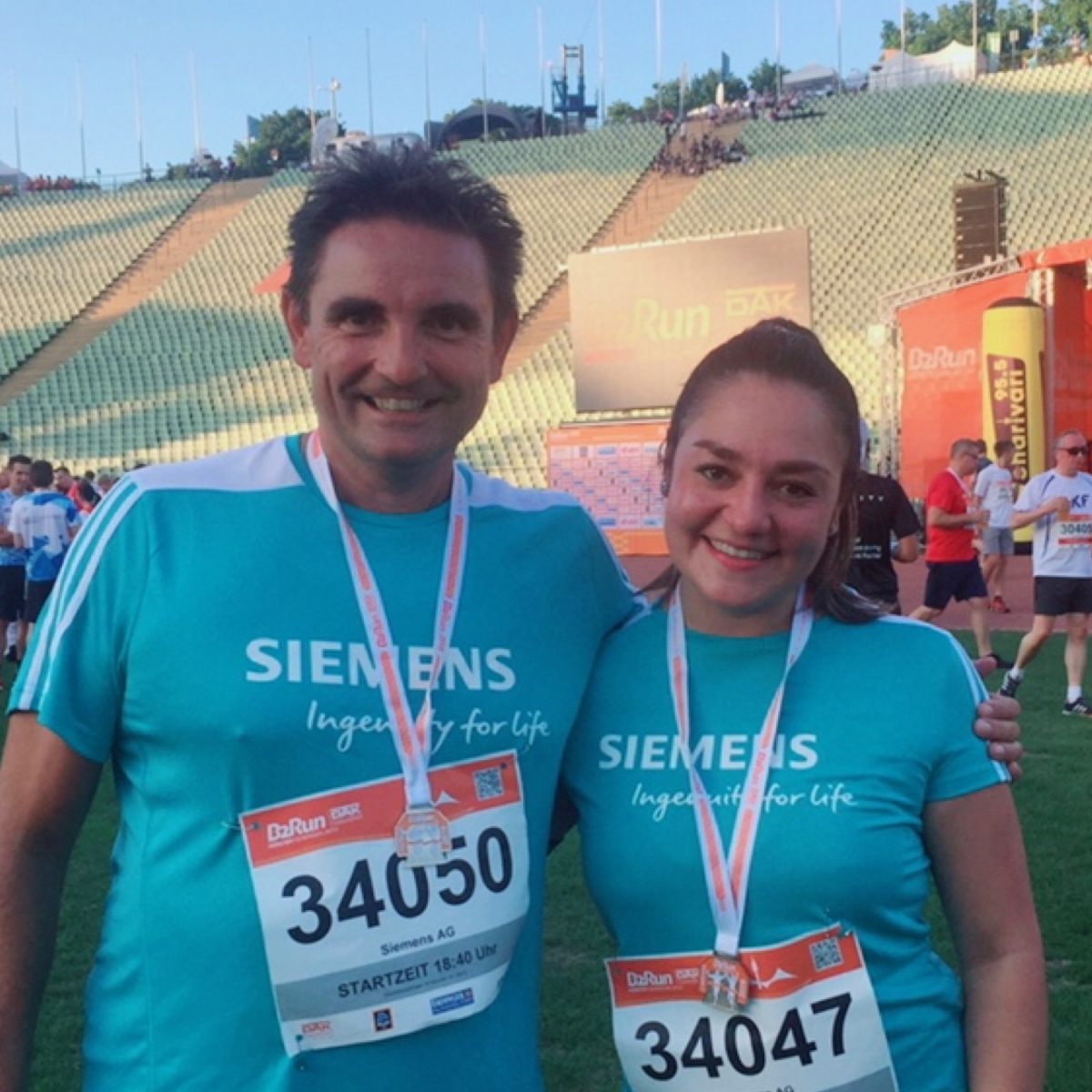 "In the future, learning will be virtual"
Mentee Ángela Párraga not only worked on her career planning and curriculum vitae with TUM Alumni Andreas Talg. In cooperation with the expert, she also drove forward the virtual learning offers of an international corporation.
Andreas Talg and Ángela Párraga share a common passion: learning. Eight hours a week Andreas Talg acquires new knowledge, currently on programmes for artificial intelligence and two new foreign languages. "I am a learnaholic," he says. Ángela Párraga can't stop learning either. The Colombian native is currently studying German. Italian or Portuguese will be next. To do so, the two enjoy using technology-based, multimedia learning environments, from apps to interactive online tutorials and podcasts.
The TUM Alumni are not only involved in the highly topical field of computer-supported teaching and learning methods in their private lives, but also professionally. "With the help of technology, we intend to make education accessible at all times and in all places," they say. As part of their participation in the TUM Mentoring Programme for Students by Alumni, they cooperated on developing Siemens' digital education and training offers.
Learning Experience
In order to finance his Physics studies at TUM, Andreas Talg taught at the Siemens Technik Akademie in Munich in the 1990s. "Since then, teaching and learning has had a hold of me", he says. He now is responsible for the global learning IT platforms. "Dealing with technologies that make learning more efficient, effective and fun for my company and my colleagues is at the centre of my daily activities," he says about his job. "Here I am able to participate in radically new approaches and smart learning strategies at company, organisational and individual levels."
Ángela Párraga had a true awakening in terms of learning and teaching, too. After completing her Bachelor's degree in Bogotá, she worked for the local Colegio Fontán Capital, recognized as a world leader in educational innovation. Teachers there were referred to as analysts who offer their students personalised curricula through an online platform. "The school's approach had fundamentally changed the way teachers, students and technology used to interact," she says, "which made me think that education ought to not only use technology, but integrate it."
It's All in the Mix
Despite their enthusiasm for the digital future of education, Andreas Talg and Ángela Párraga agree that the analogue sector will continue to hold its rightful place in future learning and teaching environments. What matters is the right mix of digital possibilities and analogue elements that have been tried and tested. "In the future, we will learn virtually", says Ángela Párraga. "But humans are and always will be social beings". Andreas Talg adds: "It is much easier to work together in a virtual space if you have met each other in the real world before."
In the real world, the two have known each other since mid-2018, when Ángela Párraga applied for the TUM Mentoring Programme for Students by Alumni. The fact that Andreas Talg became her mentor was an absolute stroke of luck. In order to be able to use the time spent with his mentee more efficiently, the latter brought her to the Global Learning Campus of Siemens as a working student. TUM supported this approach, as it gave Ángela Párraga the unique opportunity to deepen her knowledge in an applications-based manner, even before completing her Master's degree, and to engage and network with experts in the field.
Andreas Talg and Ángela Párraga agree that within the framework of TUM Mentoring, mutual learning success for both sides is guaranteed. "My mentor Andreas Talg has helped me to advance in my field of expertise, but he has also helped me with drafting my CV and planning my career", emphasises Ángela Párraga. "I can only encourage every TUM Alumni to volunteer their time", says Andreas Talg, "because this is a good investment in all our futures".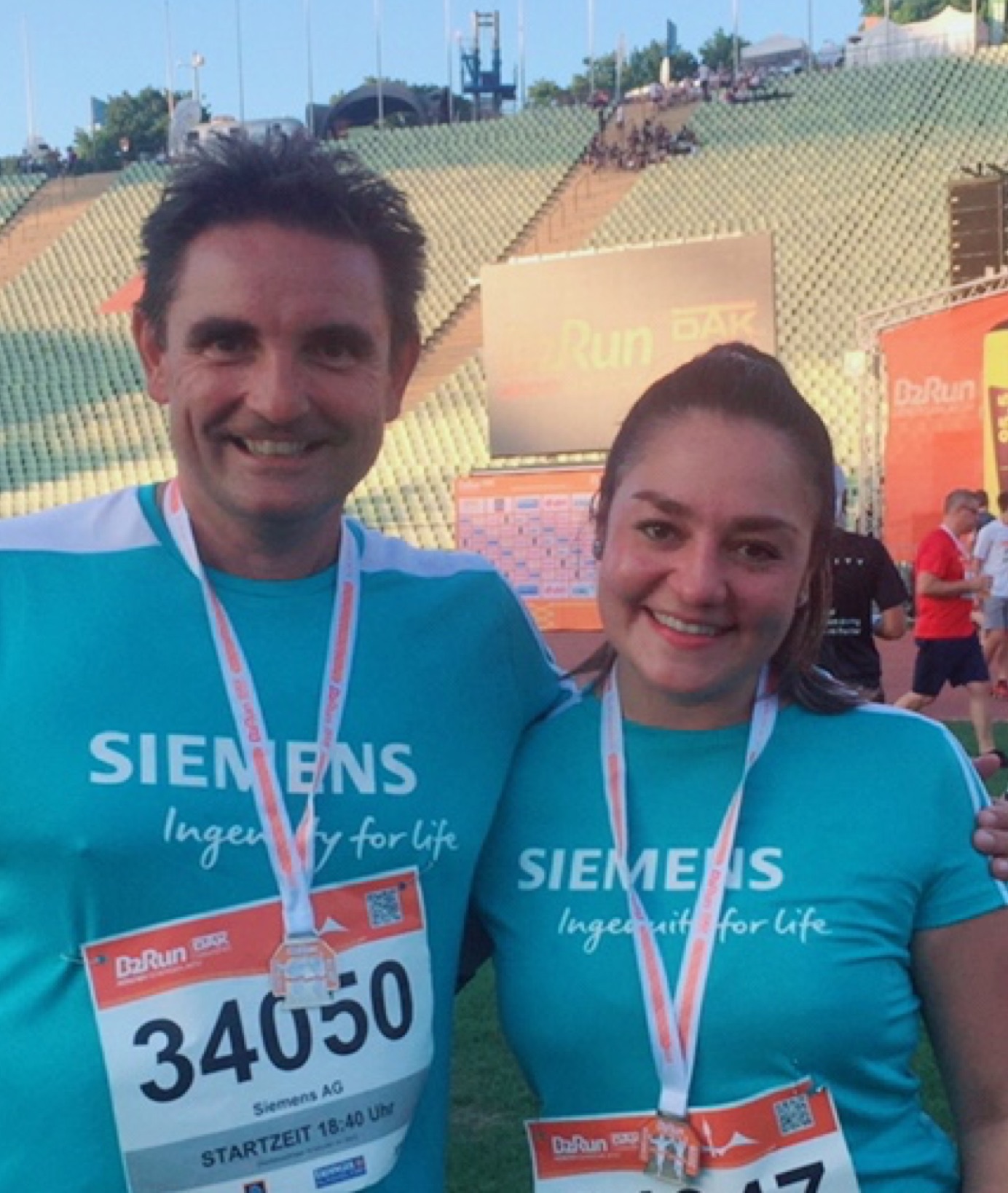 Andreas Talg und Ángela Párraga
Diploma Physics 1997 and Master Research on Teaching and Learning 2019
In 1997 Andreas Talg completed his studies of Technical Physics at TUM. Prior to that he had already studied Information Technology at the Siemens Technik Akademie in Munich. There he graduated in 1989 as an Associate Engineer in Information and Computer Systems. Since then, he has held several management positions with Siemens, initially starting in Chipcard & Security ICs department, since 2001, in the field of technology-based learning. From electronic learning, microlearning, collaborative learning and mobile learning, to 3D learning experiences using avatars and artificial intelligence, which personalise learning content – Andreas Talg knows every digital learning trend. He likes spending his free time with his family and friends or doing sports and trekking in the mountains.
In 2010 Ángela Párraga received her teaching license with a focus on humanities and the Castilian language from the Universidad Distrital Francisco José de Caldas in Bogotá. At Colegio Fontán Capital she trained the teaching staff in the use of technology-based teaching methods. Through strategies for teaching-learning assessment, she was able to reduce the number of dropouts in her virtual English courses. Ángela Párraga was so enthusiastic about multimedia and collaborative learning environments that she opted for a Master of Education. In 2016 and with a scholarship from the German Academic Exchange Service she went to Munich to study at TUM.
Through her TUM mentor Andreas Talg she joined Siemens as a working student in 2018. Even after her graduation and the end of the mentorship, she continues to work on the company's learning experience platforms. She remains in good contact with her mentor, as well. Just like him, Ángela Párraga is also a keen sportswoman.
Trusting, open, cordial: At TUM Mentoring, alumni share their personal experience and professional expertise with students and doctoral candidates, are available to answer their questions and support them individually in their personal development.