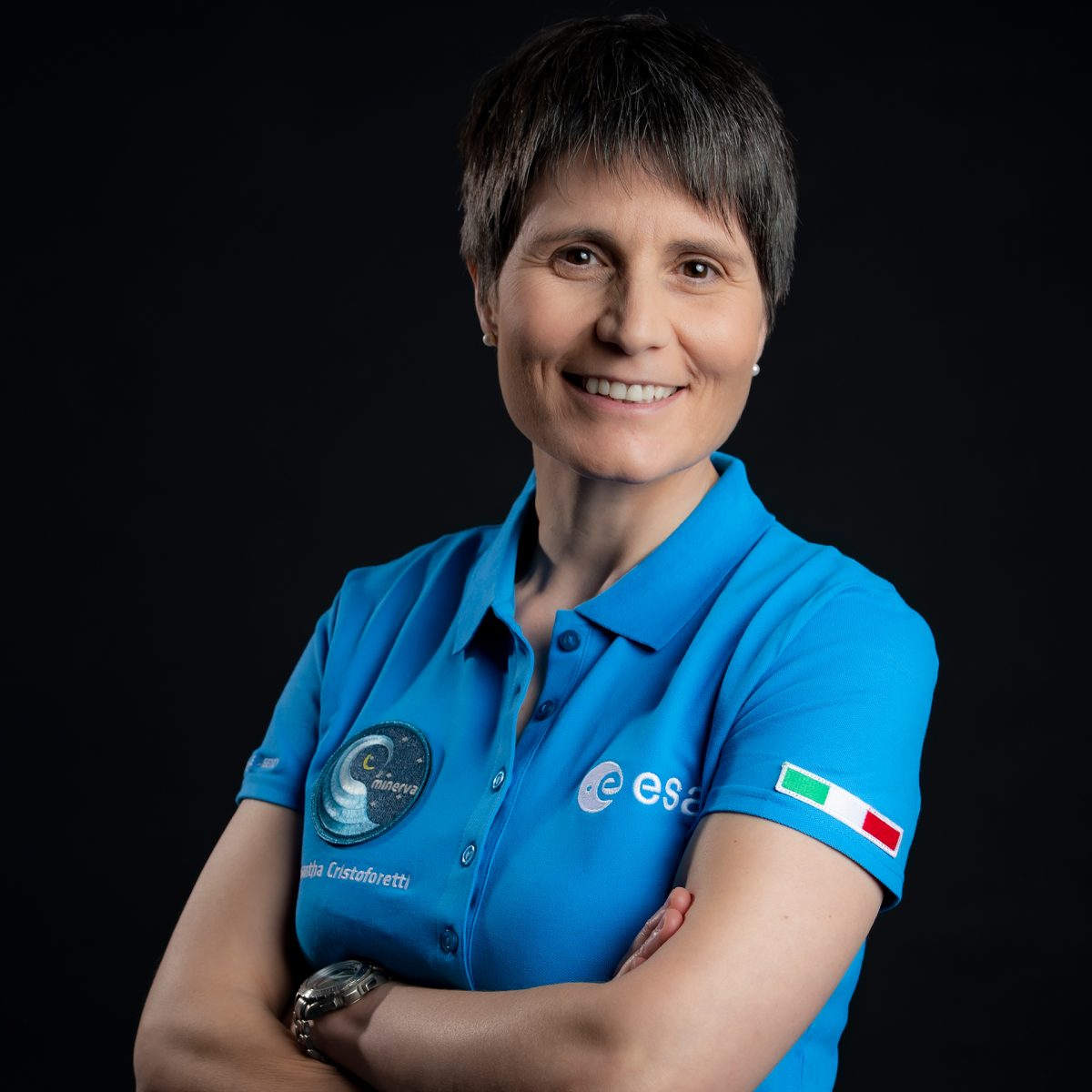 Training for the Most Challenging Workplace in the Universe
How astronaut Samantha Cristoforetti is preparing for her mission on the ISS.
Her workplace is six hours away from Earth by rocket. It is 1,200 cubic meters in size, about the size of a small factory hall, and orbits the Earth once every 94 minutes. Here, unprecedented experiments are conducted under extreme conditions in zero gravity, thus advancing the knowledge of science bit by bit. In the spring of 2022, TUM Alumna and astronaut Samantha Cristoforetti will once again embark on a mission to the International Space Station (ISS).
To prepare for her mission on the ISS, Samantha Cristoforetti has to undergo two and a half years of rigorous training, simulating the various challenges that space has to offer on Earth. Therefore, in the past months, she has been training in a spacesuit and in space vehicles, but also underwater.
Spacewalks can for example be simulated at the bottom of the ocean and tool prototypes can be tested; in addition, the crew members also have to train how to survive in the water, in case they land in the ocean when returning back to Earth. This is grueling work, involving training missions around the globe, and is as much a part of an astronaut's daily routine as the actual mission aboard the space station.

FROM DREAM TO REALITY
Ever since she was a child, Samantha Cristoforetti wanted to be an astronaut. Her room was full of posters of planets and Milky Ways. She was an avid reader of science fiction novels and non-fiction books about space. With her first flight to the ISS in 2014, she made her dream come true and at the same time set the first record for the longest uninterrupted space flight by a European astronaut.
To achieve her dream, Samantha Cristoforetti has worked hard for many years. She began her education by studying Mechanical Engineering at TUM and after graduating joined the Italian Air Force. Here, she became one of the first women to train as a fighter pilot. Although she was still in the challenging training at the Air Force Academy, Samantha Cristoforetti did not hesitate at all when the European Space Agency (ESA) announced a recruitment program for aspiring astronauts. The tough application process took more than a year and required a lot of patience, perseverance and assertiveness on her part.

THE TOUGH ROAD TO BECOMING AN ASTRONAUT
In 2009 Samantha Cristoforetti, and 5 other Europeans, prevailed over more than 8400 competitors and were selected for the European Astronaut Corps. As soon as she had completed the basic training at the European Astronaut Centre in Cologne, she was suggested as a flight engineer on Mission Futura for the 42nd long-term crew of ISS.
She prepared for her first space mission for five years. She learned to fly the Soyuz spacecraft, familiarized herself with the space station systems, robotic control and extravehicular missions. After a two-week quarantine, she finally embarked on her flight to the international space laboratory from the Baikonur Cosmodrome in Kazakhstan – as the first Italian woman in space.

OFF TO SPACE AGAIN
Eight years later, the second mission is now on the horizon: In spring 2022, Samantha Cristoforetti will travel to the International Space Station again. She will launch from Florida, USA, as a member of the so-called Crew-4 aboard a SpaceX Crew Dragon spacecraft, heading for the ISS. "The anticipation for my second trip is huge. The first time was emotionally overwhelming. Now I can witness everything more calmly and thus hopefully remember it better," says Samantha Cristoforetti.
And there is something else that has changed: Samantha Cristoforetti is now a mother of two. While her one-year-old son doesn't yet realize that his mother has a very exciting job, her daughter is proud: "She thinks it's cool that her mom will soon be flying into space again."
Despite the risks that always come with such a flight, Samantha Cristoforetti is not afraid. "I am familiar with the environment. I'm trained for this and I know what I have to do. Planes, spaceships and space are where I am comfortable." She is looking forward to her new mission with excitement, "ISS is a highly specialized laboratory. Here, we do research that would not be possible on Earth because of gravity. In this way, we are contributing directly to getting important innovations off the ground. That's incredibly motivating for me."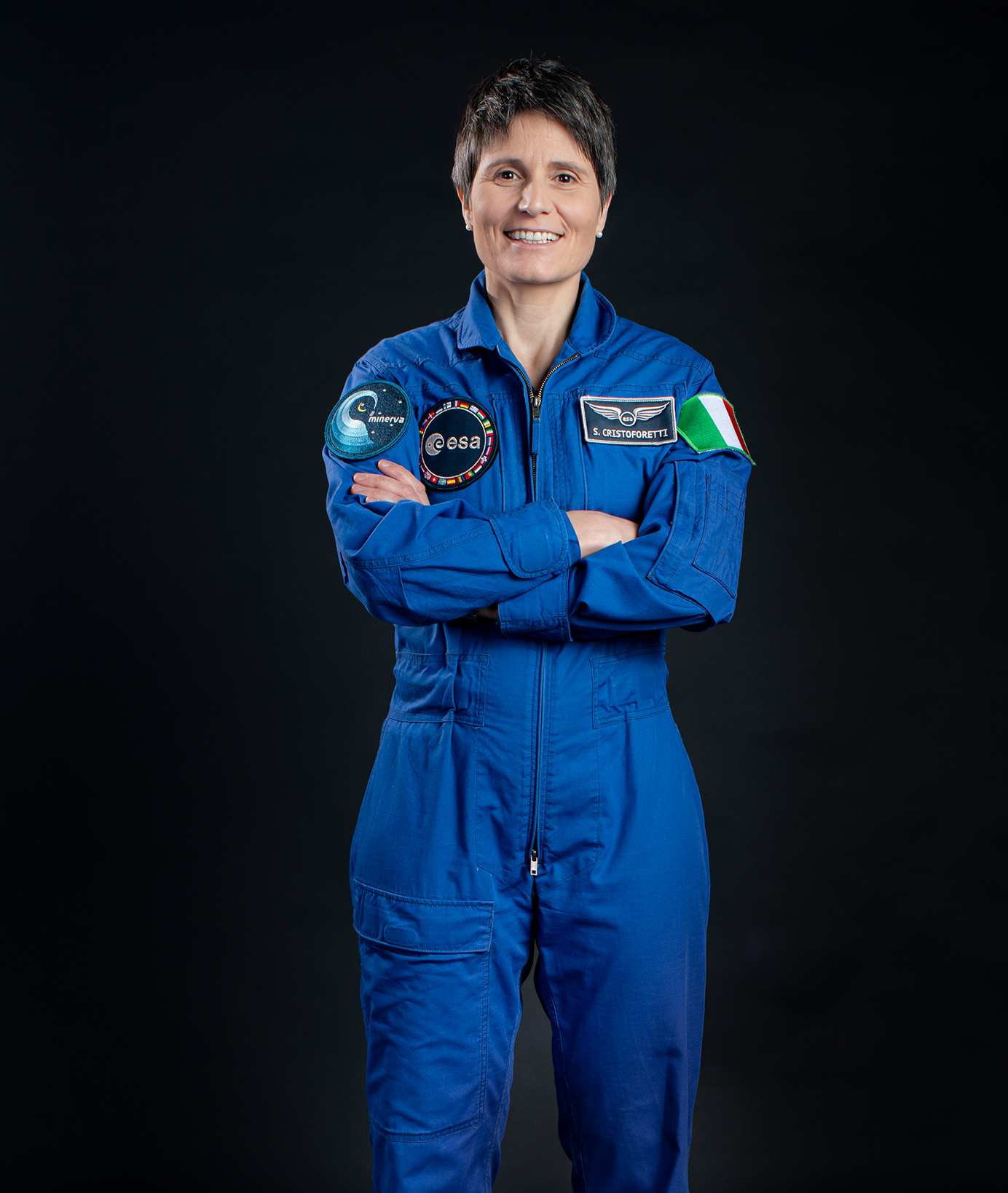 Samantha Cristoforetti
Diplom Aerospace Engineering 2001
From 1996 until 2001 Samantha Cristoforetti studied Mechanical Engineering with specializations in Aerospace Propulsion and Lightweight Structures at TUM. Through the European Union's ERASMUS Program she also studied at the Ecole Nationale Supérieure de l'Aéronautique et de l'Espace in Toulouse and at the Mendeleev University of Chemical Technologies in Moscow. She completed a second degree in Aeronautical Sciences at the University of Naples Federico II in 2005. Between the years of 2001 and 2005 she received pilot training at the Italian Air Force Academy Pozzuoli and subsequently worked for the Italian Air Force until 2009. In 2006 she was trained as a fighter pilot at the Sheppard Air Force Base. In 2009 she was recruited for the European Space Agency's (ESA) astronaut corps, in 2014 her first space mission as a flight engineer on the ISS Expedition 42 and 43 followed.
Samantha Cristoforetti holds the Knight Grand Cross of the Order of Merit of the Italian Republic. She is fluent in five languages and now – in addition to her native tongue Italian, German, English, French and Russian, learns Chinese as her sixth language. In her limited free time she is passionate about diving, yoga and caving. Samantha Cristoforetti is an avid reader of science-fiction and is writing an online-log. As @astrosamantha she has thousands of followers on twitter. Whenever she is not traveling for work, Samantha lives with her partner Lionel and their two children near the ESA Astronaut Center in Cologne, Germany.