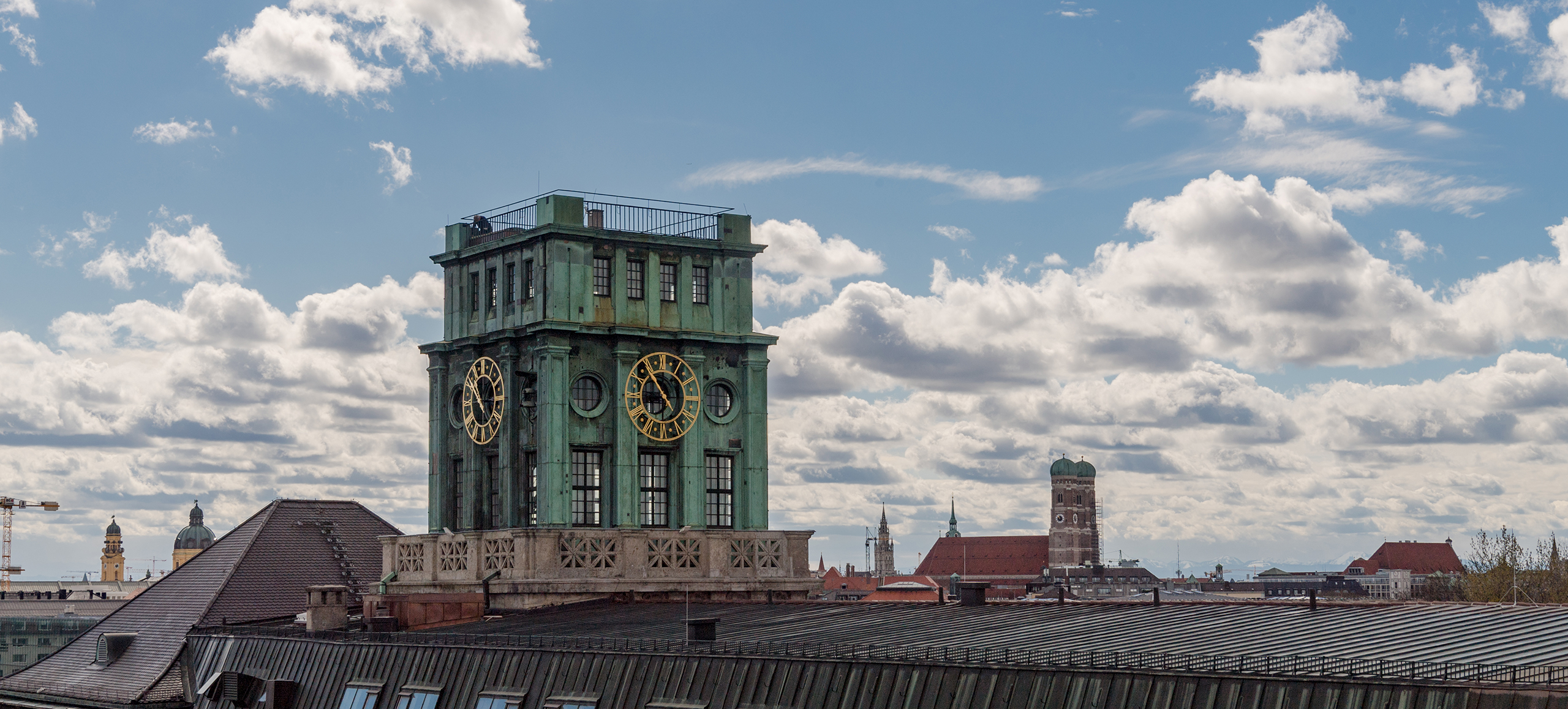 The Thiersch Tower and the Tschira Forum
Since completion in 1916, the Thiersch Tower, or Uhrenturm (clocktower) has been the main landmark of TUM. It was refurbished for TUM's 150th anniversary.
Friedrich von Thiersch was Professor for Higher Architecture from 1879 until his death in 1921 and Rector of what was then the "Technische Hochschule München" from 1906 to 1908. Around 1900 the number of people studying increased so much that the buildings were no longer sufficient. During his time as Rector, Thiersch planned the first major extension at the corner of Gabelsberger- / Luisenstrasse.
Since its completion in 1916, the 37-meter-high clocktower, which is now a listed building, has been enthroned above the building complex. The tower portal shows an allegorical representation of technology and art. It was designed by Ernst Pfeifer, then Professor for Plastic Design at THM. It is considered one of the most beautiful examples of architectural works adorned with figures in Munich.
RESTORATION IN THE ANNIVERSARY YEAR
Thiersch Tower was completed during the First World War and was therefore initially used for military purposes. Later the Akaflieg academic aviation group, founded at the THM in 1924 and still active today, worked there.
On the occasion of its 150th anniversary, TUM has restored and redesigned the monument on Gabelsbergerstrasse with the generous support of the Klaus Tschira Foundation. At the very top, on the fourth floor, the tower was also extended by adding a representative event hall. For the representative Tschira Forum, three mezzanines have  been removed above the fourth floor. The space is now used for special academic events – such as tributes or anniversaries – and to welcome outstanding guests of the university.