We Are Proud
of You.
A letter from the President to the TUM Graduates of 2020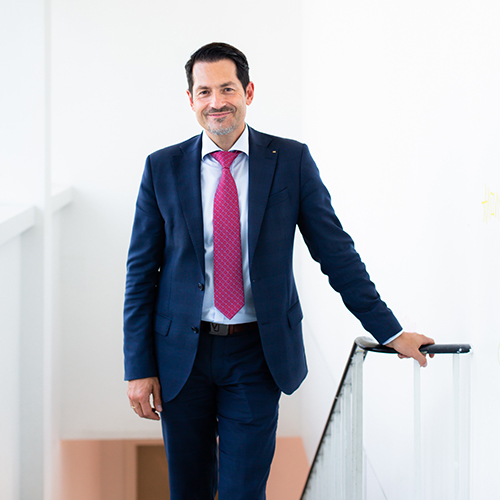 Dear Graduates of Summer 2020,
Let me be honest: This is not how I imagined the end of the semester – and you probably didn't either. I had already envisioned how I would greet you at your graduation ceremonies and look into your joyful and gratified faces. How happy you would be to have successfully mastered the final challenges of your studies and, at last, hold your bachelor's, master's or doctoral degree in your hands. Regrettably, life at TUM looks quite different than we had imagined. The campus feels empty and deserted now – without you here, the university doesn't feel like my TUM, nor, more importantly, yours.
An Extraordinary Semester
Yet, especially now, there is so much I would have liked to say to you in person at your graduation ceremony: The summer semester 2020 was more than extraordinary and confronted you, as it did us, with an unprecedented situation. Like none before us, we have experienced our world at a standstill. In order to protect the older members of our society and those at risk, you left your academic home – TUM – sat down at your desk at home and embraced online teaching formats in support of the fight against the pandemic.
Many of you, such as the students of the TUM School of Medicine, have fought on the front line, volunteering as scientific assistants at the University Hospital rechts der Isar to support the treatment of those infected with the disease. Many of you have also taken part in the German government's hackathon #WirVersusViren, which included more than ten teams from TUM. These extreme circumstances have allowed us to demonstrate, once again, the value of solidarity in our university community. For that, I thank you.
Society Needs You
The entire TUM Family is proud of you. We are proud of your industriousness and of what you have to show for it, now, as you close this chapter of your academic careers. Above all, we are proud of your courage and fortitude in facing the unique challenges of this year to achieve your goals in spite of these difficult conditions.
Our society needs you now more than ever. We need the expertise of young scientists, engineers, doctors and teachers in the fight against the pandemic and, not least, in the re-imagining our lives together in society as we emerge from it. With the TUM graduating class of 2020, I am pleased to send an entire league of just such highly trained young people from our alma mater into the professional world.
TUM Remains a Part of You
Many of you had to leave TUM, at least physically, much earlier than planned. Let me assure you,even if your studies are now over, you will always remain a part of TUM – and TUM will remain a part of you. Here, you have made friendships that will last a lifetime, and you have gained experience and knowledge that will help you, together, to make the world a better place, one step at a time. You have experienced how good it feels to have a strong university community behind you. You will soon discover that it is precisely this community that makes the TUM Alumni Network one of the largest and most committed in Germany.
You are all part of the TUM Network: a community that comprises all those who have studied or worked at our university, a community that extends to all parts of the world. It is a network that welcomes you – no matter where in the world or in which stage of life you may be. We are all part of what makes TUM the university it is. Whether you join a regional alumni group, share your knowledge as a mentor or attend alumni events around the world – you will always stay connected to TUM.
We Have Your Back
Wherever life takes you from here on out, we and the entire TUM Family will be there to support you in any way we can. Rest assured that today, more than ever, the excellent and interdisciplinary education you have received at TUM is in great demand on the job market.
At any time, you can take advantage of our Alumni & Career services at no cost, whether you are seeking advice as you embark on your career or as you continue your professional development. This is a life-long service provided to all our graduates. Get in touch with experienced TUM Alumni, who are happy to support you in joining a professional field or taking the next step in your career. Enter into an inspiring exchange with the more than 80,000 other TUM graduates.
We – TUM and its entire network – have your back.
Yours in heartfelt solidarity,
Thomas F. Hofmann
President