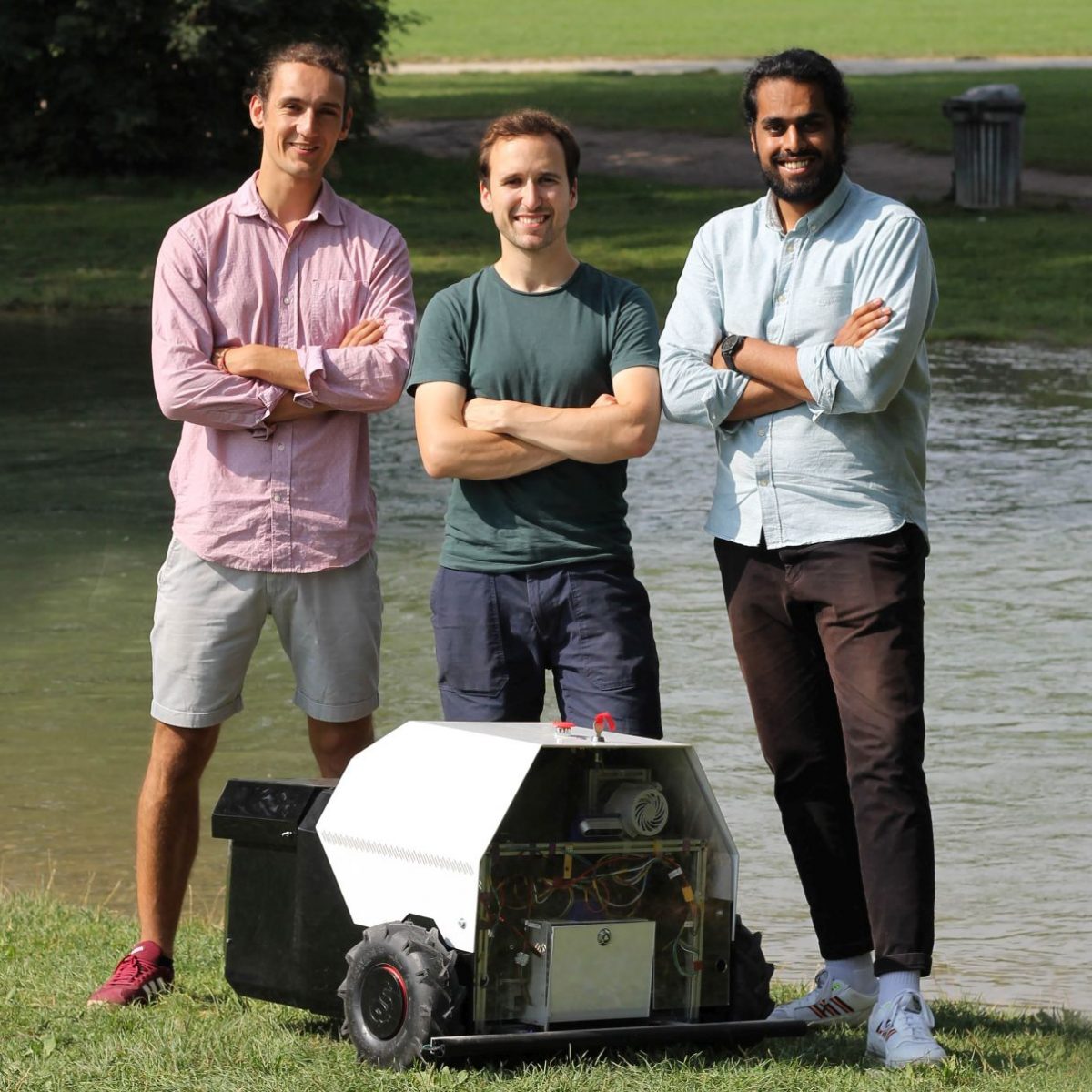 Founder Lukas Wiesmeier, Karl Schulz und Bilal Tariq
"Without TUM, our company would not exist."
Lukas Wiesmeier, Karl Schulz and Bilal Tariq have developed a fully automated high-tech robot that clears green spaces of small waste. The young entrepreneurs are not using technology for technology's sake. With the help of artificial intelligence, they want to solve a significant ecological problem and make a contribution to environmental protection as a matter of conviction. "Our passion is the real world impact we want to have with our product," Karl Schulz, who developed the neural network of the intelligent machine, emphasizes. "There is enormous potential yet to be tapped into, in applying AI for sustainable purposes."
THE PERFECT SUPPORT FOR A GOOD CAUSE 
When Lukas Wiesmeier, Karl Schulz and Bilal Tariq started their studies at TUM, they did not plan to start a company. In 2019, however, this suddenly changed. When they met at Think.Make.Start, the makeathon organized by TUM and UnternehmerTUM, they quickly realized that they shared a common vision.
With their broad knowledge in Management and Technology, Robotics, Deep Learning and Artificial Intelligence, as well as Mechanical Engineering, it was easy for the TUM Alumni to come up with a sustainable solution to the problem of small-scale trash on lawns and gravel surfaces: an intelligent robot that autonomously removes trash. And before they knew it, the robotics enthusiasts had created the start-up Angsa Robotics as a result of their future-oriented idea. "We are all not looking for a quick exit, but are eager to make a positive impact," Karl Schulz says. "That is what made us take the plunge into entrepreneurship together."
With TUM at their side, the entrepreneurs were well poised right from the start – from forming the team around the idea at Think.Make.Start to the first steps in the TUM Start-up Incubator, prototype funding from UnternehmerTUM's Initiative for Industrial Innovators, and advice on the EXIST start-up grant. "Ever step of the way TUM has been enormously important to us," Lukas Wiesmeier emphasizes. "Without TUM, Angsa Robotics would probably not exist," adds Bilal Tariq.
SMART SOLUTIONS 
Because manual removal is particularly time-consuming and expensive when it comes to very small items of waste such as cigarette butts, bottle caps and bits of plastic, they are frequently simply left behind and thus constitute a significant environmental problem. The young company's robot provides a technical solution to this problem that simply does not exist yet. It uses the GNSS signal (Global Navigation Satellite System signal) to confidently navigate heterogeneous terrain. At the same time, it can reliably distinguish waste from other objects such as leaves, dirt or insects in order to dispose of it.
The entrepreneurs do not regard their robot as a threat to jobs in any way. "It can clean grass and gravel areas more efficiently and at lower cost," Lukas Wiesmeier says. "This frees up resources for humans to carry out other tasks, such as the maintenance of green spaces."
DUE RECOGNITION 
The market launch of Clive, their robot, is planned for 2022. First in Germany and then worldwide, the clever machine will carry out regular cleaning of municipal parks and perform one-time cleaning of green spaces after festivals and events. Until then, there is still a lot to do in terms of product development and customer acquisition. "We see a lot of potential for continued rapid and sustainable growth in the coming years," the entrepreneurs tell us. "On the way there, TUM's network and the TUM Start-up Incubator are without a doubt invaluable."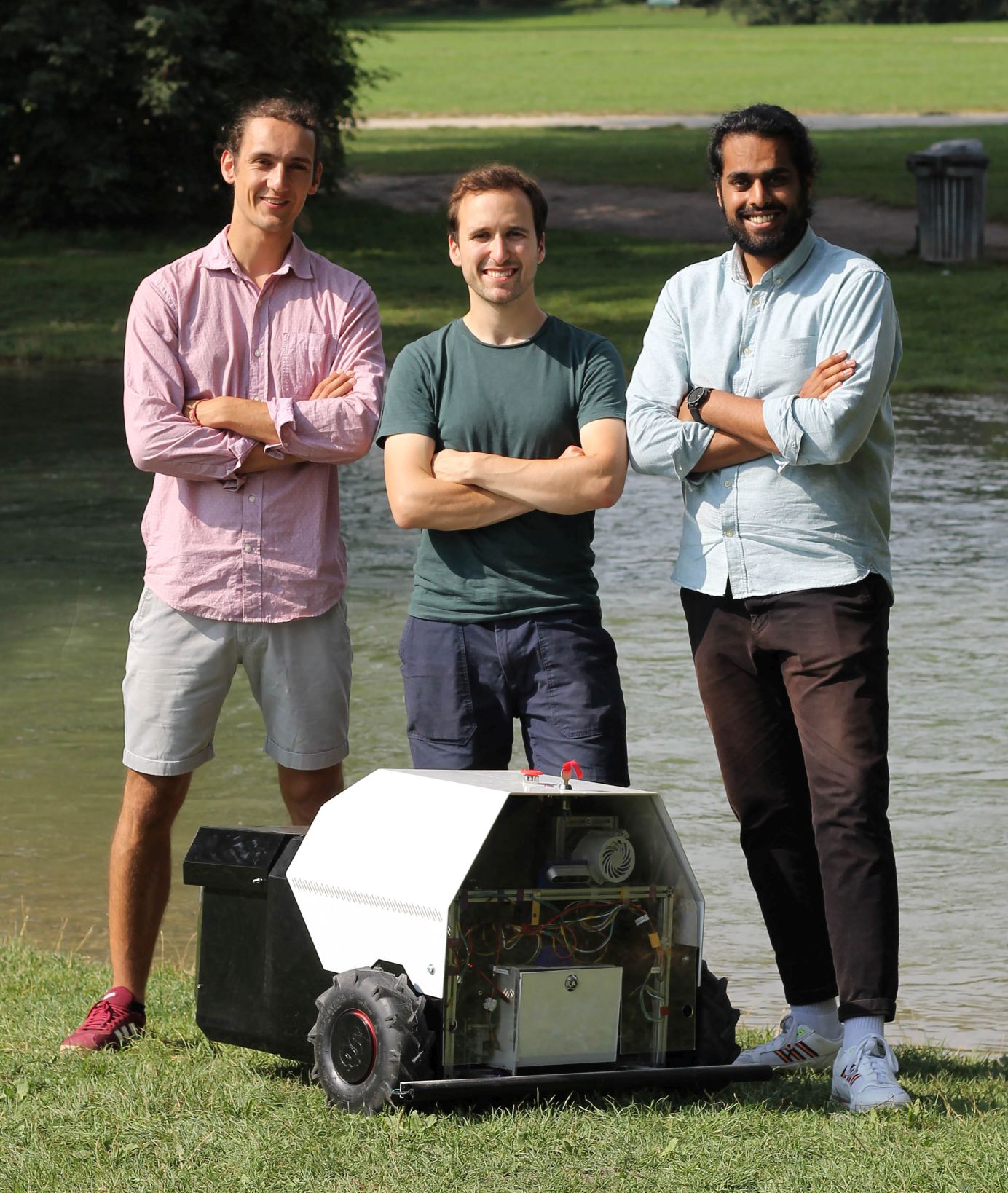 Lukas Wiesmeier, Karl Schulz und Bilal Tariq
Bachelor Management & Technology (TUM-BWL) 2017 / Master 2020, Bachelor Electrical and Computer Engineering 2015 / Master Robotics, Cognition, Intelligence 2019 and Bachelor Mechanical Engineering 2016 / Master 2020
Lukas Wiesmeier completed his Master's degree in Management and Technology (TUM-BWL) in 2020. Retrospectively, the program with its balance of technical content and entrepreneurial and business management knowledge was the perfect fit for him. Also the chance to gain international experience through a semester abroad at the Universitat Politècnica de València provided him with valuable new perspectives.
Karl Schulz completed a Bachelor's degree in Electrical and Computer Engineering in 2015 and earned a Master's degree in Robotics, Cognition, Intelligence in 2019. He wanted to be an inventor since he was a child. As a high school student, he worked as a web developer, and during his studies as a software developer. Studying at TUM showed him what is possible in the field of Deep Learning and Robotics.
In 2020, Bilal Tariq completed his Master's degree in Mechanical Engineering at TUM. During his studies, he took full advantage of the many opportunities TUM offers its students to actively participate in current research and get involved in practical projects – whether as a research assistant, in corporate development for the TUM start-up NavVis, as an Agile Coach and Scrum Master, or as a coach at the interdisciplinary and competitive teaching format Think.Make.Start. This is where he met Lukas Wiesmeier and Karl Schulz in 2019, with whom he launched the start-up Angsa Robotics in the same year.
Since then, things have gone very well for the robotics fans. With their cleaning robot, they are among the top 10 start-ups focusing on autonomous systems. At Bits & Pretzels, they were one of the six AI newcomers from the Alps region, and they were also part of the renowned XPRENEURS Incubator for high-tech start-ups at UnternehmerTUM. In 2020, the Initiative for Applied Artificial Intelligence ranked them among those start-ups in the field of Artificial Intelligence that have high prospects of soon becoming one of the top 100 international start-ups.