Always up to date
TUM uses a variety of channels to keep you up to date on what is happening at the university and in the TUM Network. On this page you will find a summary of the various magazines, publications and newsletters available to the TUM Community.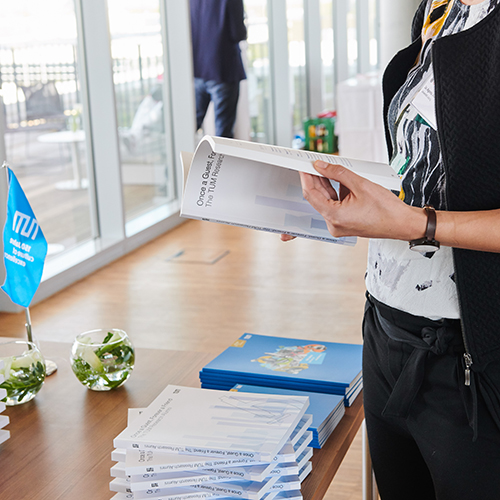 Digital.
Ideas for now from within the TUM Family
On 68 pages, the current KontakTUM is dedicated to the topic of digitalization. The TUM Alumni Magazine introduces ten founders who influence the digital world with their visions and groundbreakingly shape the future. Moreover, the KontakTUM editorial team invited the president of TUM and four TUM alumnae to a round table to discuss digitalization – their conclusion: "Digitalization needs courage".
In the programme section of the magazine you will find a variety of events – and of course also many webinars and online offers. As an alumni, you have plenty of opportunities to return to your alma mater digitally and benefit from the numerous offers at TUM.
Career Flyer "From Student to Young Professional"
Be one step ahead of your competitors and take advantage of the wide range of information and offers at TUM: The Career Flyer contains information on career opportunities such as the Applications Check Online, personal counselling and Assessment Centre Training.
TUM Community Email Newsletter
Subscribe to our newsletter to stay up to date on our services and events and to receive news from TUM. You can conveniently and easily manage your subscriptions online. Log in and update your subscriptions in your personal profile. You don't remember your TUM ID or password? No problem! Just send us an email at alumniundcareer@tum.de
A perfect fit
Our Newsletters