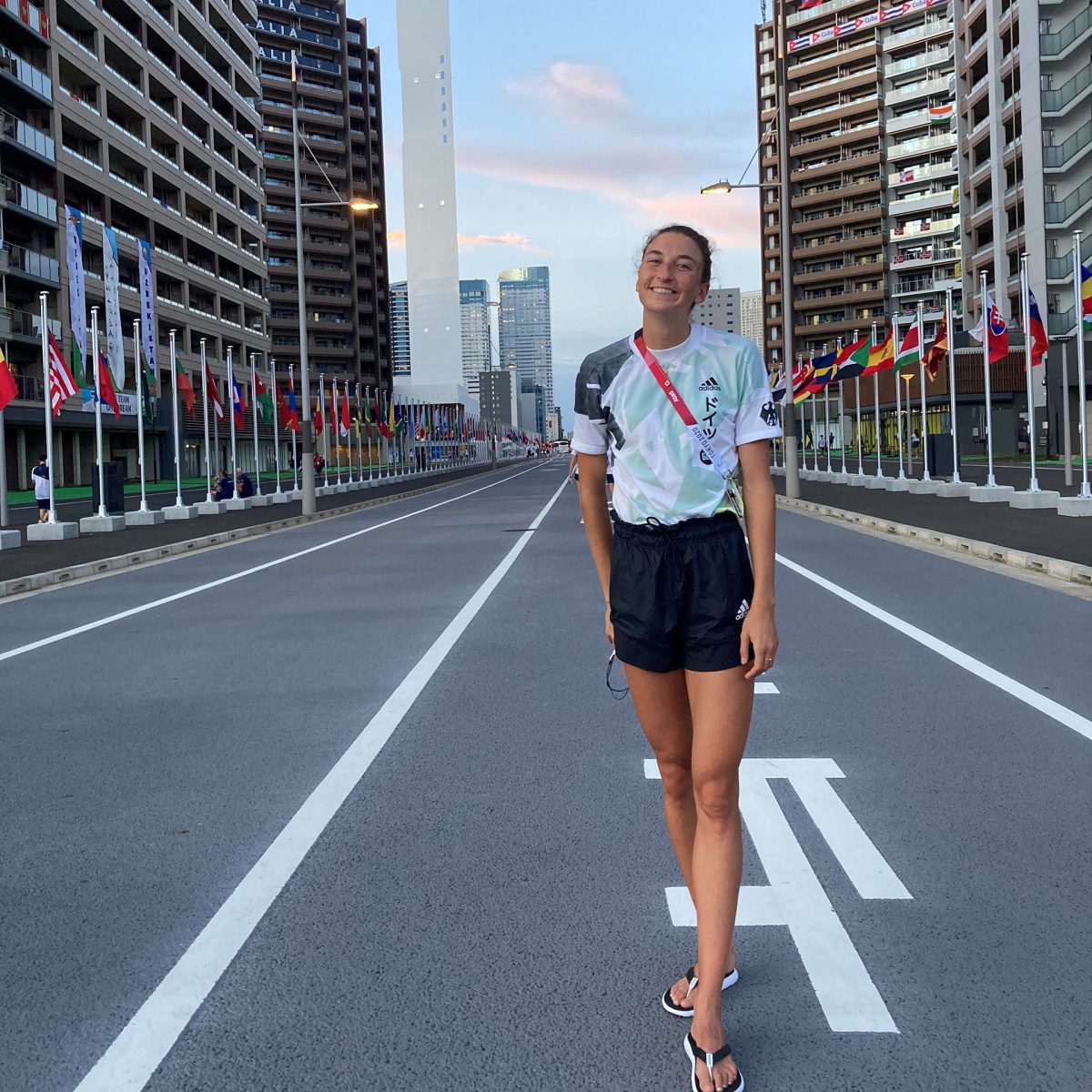 Track Athlete Christina Hering
"As an athlete, it's important to invest in education"
Already as an eight-year-old, Christina Hering was already in the track and field sports club. Since the age of sixteen, she has pursued the 800 meters as a competitive sport. Through ambition, skill and her stride length, the 1.87 meter tall TUM Alumna can outrun most of her competition. She is ranked 28th in the world.
As she was already celebrating her first international successes in the German national team while still at school, Christina Hering was keen to stay in Munich in her familiar sporting environment. At the same time, she was also eager to invest in her professional future after competitive sports by studying at TUM.
TWICE IN THE RUNNING
Good time management and a lot of discipline enabled Christina Hering to obtain a bachelor's degree in Scientific Principles of Sports and a master's degree in Management at TUM alongside her sports career. "As an athlete, it's very important to invest in education, because athletic success is naturally limited to a certain age," she says. "Thanks to TUM's excellent education, I feel well prepared for a career in the workplace."
Sometimes, however, there were times when Christina Hering wished she could be just an athlete or just a student, so that she would be able to concentrate fully on one or the other. Some of the exams coincided with important competitions. Then it was not only a question of time to manage both, but also a question of staying focused.
PARTNER UNIVERSITY OF TOP SPORTS
Christina Hering also remembers the positive aspects of her student days. "I really enjoyed campus life at TUM between training sessions," she says. "In those moments, I was able to leave the sports bubble and talk about completely different topics with my fellow students from around the world."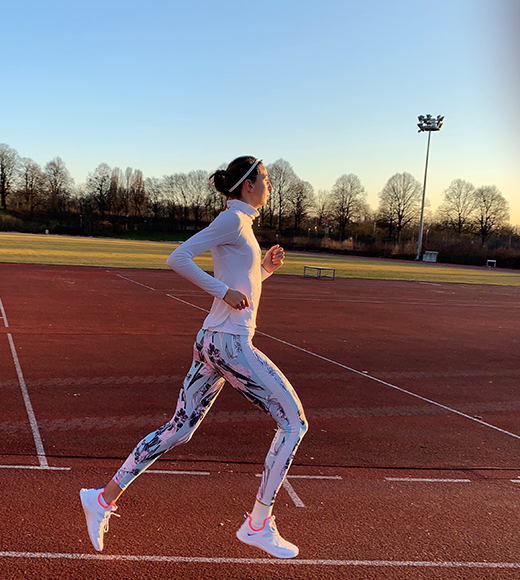 Thanks to TUM's excellent education, I feel well prepared for a career in the workplace.
The athlete has received support from TUM wherever possible. The TUM School of Management recognized her international experience and intercultural competence through sports competitions as a two-month internship abroad. If not for this support, Christina Hering would not have been able to complete the mandatory internship given her tightly scheduled training and competition season.
A LIFE DEVOTED TO SPORTS
Twice the biggest dream of every world-class athlete came true for Christina Hering: participating in the Olympic Games. Both times she handed in her bachelor's and master's theses just before. Unfortunately the twelve-time German champion in the 800 meters was not able to win a medal at either the 2016 Olympics in Rio de Janeiro or the 2021 Olympics in Tokyo.
But Christina Hering is a good sport about it and nevertheless grateful that, at the age of 26, she was able to take part in this important sporting event twice. "Unfortunately, I wasn't satisfied with my athletic performance in Tokyo, but overall I still look back on a great event," she says. Notwithstanding the strict COVID precautions, there was a very special atmosphere created by the different sports disciplines and nations coming together."
With two successfully completed degrees from TUM, Christina Hering can look forward to her future with confidence. Through various internships, she aims to find out where her journey will take her when her athletic career is over – perhaps into human resources development or the management of a sports company. But until that happens, "Running Fischi" – her social media nickname – will keep running. In 2022, she will compete at the European Championships in her hometown of Munich. "My life is devoted to sports," she says. "It fulfills me and I really enjoy it."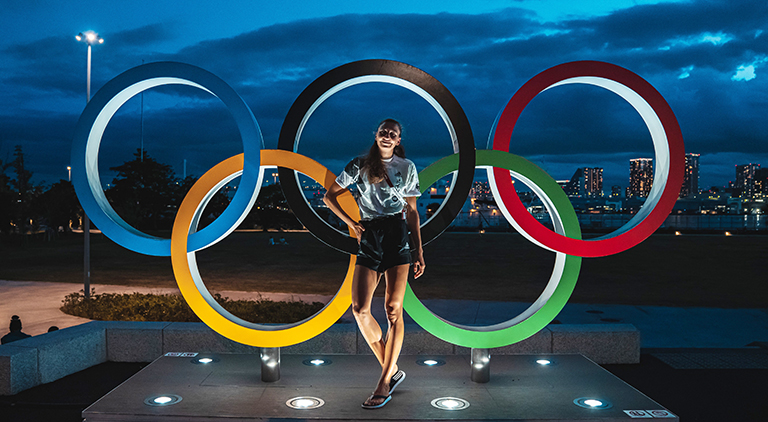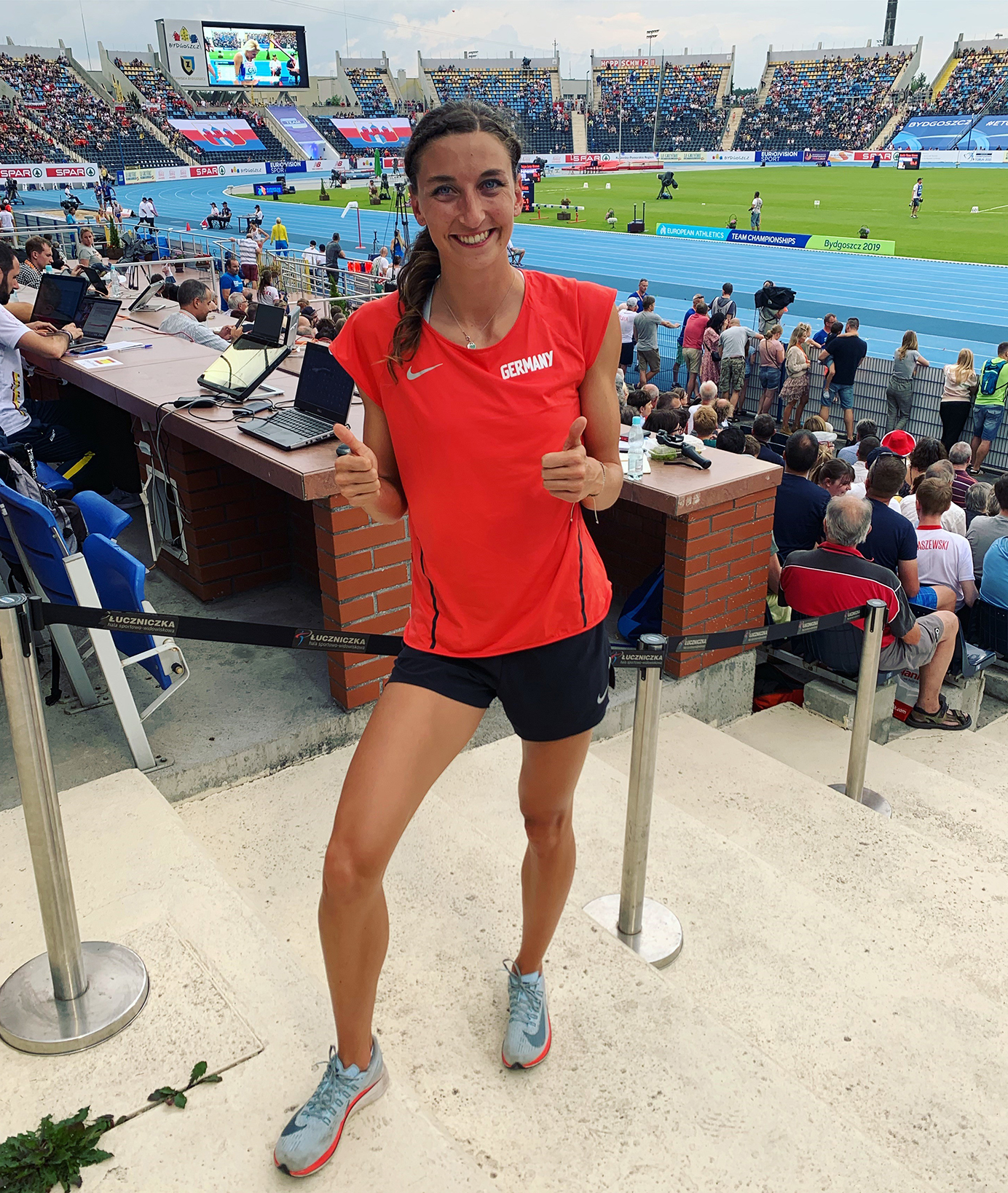 Christina Hering
Bachelor Scientific Principles of Sports 2017, Master Management 2020
From 2013 to 2017, Christina Hering completed a bachelor's degree in Principles of Sports at TUM. In 2020, she completed a master's degree in Management. But her great passion is athletics. Her specialization is the 400 meters and, in particular, the 800 meters. In her native city of Munich, she trains with the LG Stadtwerke München club. She has been a member of the German national team since 2012 and a member of Sportfördergruppe der Bundeswehr (German Armed Forces Sports Support Group) since 2014. Christina Hering is a twelve-time German champion in the 800 meters. On the international level, she finished second at the 2019 Summer Universiade. In 2016, she competed with a number of other TUM Alumni in Rio de Janeiro, and in 2021 in Tokyo at the Olympic Games.
Christina Hering is very attached to her hometown. She loves Munich as a city and place of residence and very much enjoys spending her free time here with her family and friends. If she weren't a competitive athlete, she would do plenty of sports anyway – skiing, tennis and beach volleyball.